The Well Universal is a company which produces electronic games, external screens, and monitors and parts for game tables. They are not so well known in the foosball world because their main focus doesn't have much in common with foosball. The only Well Universal foosball table on the market is the one I am going to review today. Keep in mind that brands which don't have more than 1 or 2 foosball tables can't produce the same quality tables as the most famous brands in the foosball world. A Well foosball table is not the most stable and durable table on the market, but it is an average quality foosball table.

When you look at the overall design of the table, you can see that the table looks amazing. It has a rich cherry wood finish on the entire table which gives it elegant looks. The metal details on the table are improving the overall design of the table which is great. The Well Universal foosball table is a great piece of furniture, not just a foosball table. Arched legs connected with a sturdy base make the table extremely stable and that is very important in a foosball table. The weight of the table is in the middle, it is not too heavy nor too light because it has 187 pounds.
The Well foosball table is completely made in wooden and metal design, which means that the playfield is made from wood veneer. On the field, we have counterbalanced players which are controlled by the solid steel rods. The players are traditional but they have rectangular feet which is better for ball control. I prefer hollow steel rods because it can provide the faster game. The handles on the rods are wooden which far better choice than the plastic ones are.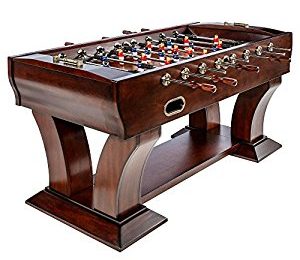 The interesting goal design is not common for the foosball tables. The goal isn't build-in the cabinet, it stays in front of the cabinet and it looks like a soccer goal. It is an interesting feature but I am sure the ball will get stuck behind the ball at least once. When it comes to experience, leg levers on the Well Universal foosball table will provide you smooth and straight surface 100% of the time and side ball return will provide you fast retrieval of the ball. Side ball return is better than the end ball return because it is closer. On the end ball return, you have to leave your post to pick up the ball from the return.
PROS
Sturdy base
Elegant design
Counterbalanced players
Wooden handles
Side ball return
CONS
Hard to find
Solid steel rods
Quality