The Viper brand is owned by the Great Lake Darts Company. If you think that GLD sounds familiar you are right because they own the Fat Cat brand as well. The GLD is a company established over 30 years ago and it is specialized in producing family gaming products like darts, foosball tables, air hockey tables or billiards. The Viper brand has two foosball tables and today we will make a review of each Viper foosball table. All in all, those foosball tables are OK quality tables, not the best, but they are middle-quality foosball tables. To learn more about them, continue reading reviews.
VIPER FOOSBALL TABLE REVIEWS
Viper Sheffield Foosball Table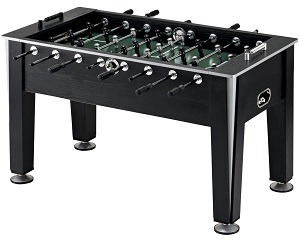 The Sheffield foosball table is a good quality table made for kids, beginners or hobby foosball players. The overall quality is OK, but if you are experienced player, you will feel flaws while playing the game. For example, the first flaw is the weight of the table. The table itself is not that heavy and you can move it if the game gets too intense. The weight is around 120 lbs, which is not a problem for 2-4 adults to move. Another so-called flaw is the lack of counterbalanced players. I think it is a flaw because today there are too many tables with counterbalanced men and it has become a must have for a foosball table. But, not everything on the table is bad. The rods on the table are the best quality. You can compare them with tournament rods and they will be extremely similar. They are made from a great quality material, they are hollow and they provide you the best control over the players. Also, this Viper foosball table has leg levelers which are extremely important. I truly believe that leg levelers should be a part of every foosball table on the market. If you have the straight floor, you won't need them, but if you don't, you won't be able to play the game in peace. Leg levelers are part of the table which you don't think about until the moment you need it. All in all, for the price and for the beginner or a kid, this Viper foosball table is really good.
PROS
Leg levelers
High-quality rods
Good choice for kids or beginners
CONS
No counterbalanced players
Not too heavy
Viper Maverick Foosball Table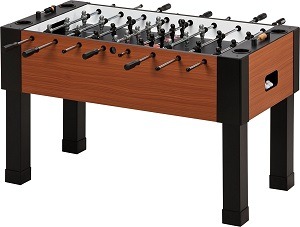 The Maverick foosball table is slightly better than the Sheffield foosball table because it is made to last. It is a durable and stable foosball table and you can play foosball on it for hours. It is made for hobby players and it can provide you really good game play. You can see that it is made more for hobby players than for advanced players because it has 4 cup holders, two on each end of the table and the scoring beads are in the middle, right above the goal.  The table comes with counterbalanced players which is a great thing. Just like the Sheffield Viper foosball table, this table also has leg levelers so you can keep playing even on the uneven surface. It can have problems with some parts like the scorer, but it is nothing serious. It is an OK quality table for the price.
PROS
Counterbalanced players
Leg levelers
Durable and stable