Vintage is a term people use when they want to describe something old, but still in great shape. For example, vintage foosball table would be that table you have at your parent's home which you use rarely and it is in mint condition. You don't want to sell it because it is a memory, but you don't want to take it with you because you have a new foosball table here. What I like about the word vintage that it doesn't mean old and broken, but old and made with quality. Due to that, I decided to make short reviews of vintage foosball table for sale which are a great investment.
VINTAGE FOOSBALL TABLE REVIEWS
Bradley Industrial Foosball Table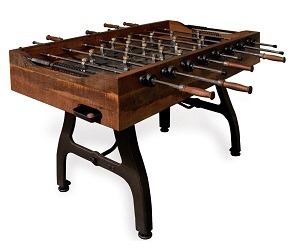 Bradley Industrial is one great foosball table when it comes to the vintage look. People who made it are especially proud of this table because it represents the industrial style which can be seen in used materials. Yes, I am talking about cast iron parts which are made from vintage machine parts and reclaimed wood.  The playing surface of this vintage foosball table is made from volcanic stone and that is something you won't see that often. The table itself is pretty impressive because it consists of many interesting details, but I have a feeling that it is more a showpiece than a great foosball table. I am absolutely certain that it is a good table for hobby players but I can't say the same for professional players. If you are looking for a foosball table in vintage condition, I would recommend this one.
There is one thing I have to warn you about this table. It is a designer piece which means it has a hefty price. I mean, the table looks amazing and the fact that it has the volcanic stone as a foosball field is also pretty incredible but I am not sure whether I would be prepared to spend that kind of money on it.
EastPoint Sports Newcastle Foosball Table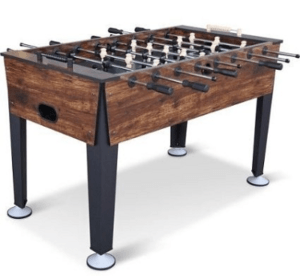 EastPoint is a really good brand when it comes to foosball and I have reviewed this foosball table before. You can read the whole review here. The reason why I am mentioning again is the fact that it is a great foosball table for this topic. It has the vintage look and it is on the market for some time. The game performance is great because it has adjustable leg levelers, but it is a little light so you might move it during aggressive play. The rods on the table are high-performance which makes it better than other models in this price range. Since we are already talking about price, this vintage foosball table is not so expensive and I think it is a pretty decent table for the price range.