Foosball players are one of the most important part of the foosball table and one of the most used part of foosball table. Every foosball man has a special purpose and that is to defend his own goal or to attack the opponent's goal. Their design, material and even characteristic will improve your game in matter of seconds. They can be divided into 1-man goalie or 3-man goalie layout, which can make the game faster, they can make you focus on strategy instead of immediately scoring the goal. Foosball table players are crucial feature of almost every foosball table and that is why I decided to introduce you with different types of players.
Materials used for foosball players
Plastic – the most common material used in making the foosball players is plastic. Plastic can be cheap, durable, made especially to withstand force like the ABS plastic or basic plastic used in almost every product on the market. The worst players are made from basic plastic because they are light and they can't hit the ball with huge force. The best players are made from the ABS plastic, which is indestructible and they can hit the ball pretty hard.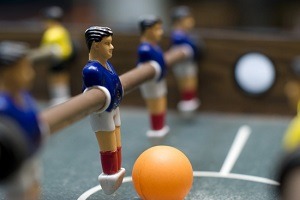 Wood – wooden foosball men were used in the past and today they aren't that common. Wood is more expensive than plastic and that is why they are replaced by the plastic ones. Most foosball tables which are made in some specific style like the antique or vintage foosball tables have wooden foosball table players.
Metal – just like the wooden foosball men, metal players are tied to the specific style of foosball tables. Most metal foosball players are on the designer pieces, limited editions and other special type of foosball tables because having a metal player requires money.
Design of foosball players
Traditional players – are foosball players which look like real people. They are used since the beginning of foosball and there are two main types of traditional players. The first type are players with round feet, which aren't that good. The main problem with them is their feet shape because when you hit the ball, you have no idea in which direction it will go. The second type are players with the rectangular feet. Those are improved traditional players because it is easier to control the ball with straight feet's surface.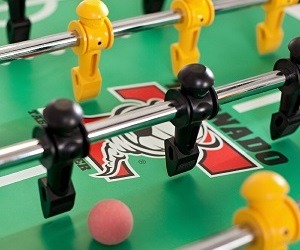 Tornado players – are foosball players made by Tornado. They have robotic style which is pretty popular today, but the thing that makes them interesting is the foot. The foot has a cross-hatch design which is important because it helps during pining the ball, picking up the ball and everything else you want to do to control the ball. Also, the cross-hatch surface is bigger than the rectangle on the traditional players and the surface is slightly tilted.
Robotic players – robotic players are very similar to the Tornado foosball men in design. They are made without any details, everything they have is leg, body and one rectangular foot. They look pretty much the same as the Tornado men, but they are made by other companies. Also, there are versions where they don't have cross-hatch surface.
Style of foosball players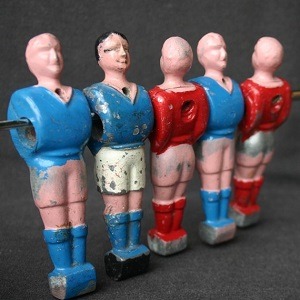 Counterbalanced – the only style of foosball players which can really affect the game is the counterbalanced style. Counterbalanced men are men which stay in the same position you leave them. So, if you leave your players in horizontal position, they won't drop their feet. Another term for counterbalanced men is counterweighed men, which means that the head and the toe are in a balance. Today they are must-have features in most foosball table so if you are looking for a foosball table, make sure that it has counterbalanced foosball players.