TSA foosball table is a good quality table, but it is not the best. I can't say I know about TSA foosball tables and I am not familiar with the brand. I did some research about it but I couldn't find any information about the brand, so let's focus on the TSA foosball table review.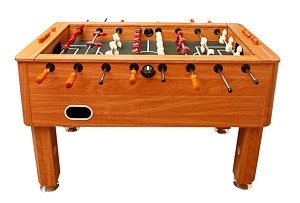 When you look at the table you can see that it is made from wood and it has a sturdy construction. I love the fact that the entire table is made in the same tone. The handles, the construction, and even score beads are all wooden. There are leg levelers on the table so you can play on an uneven surface without experiencing ball movement is one direction. Additional things which contribute stability of the TSA foosball table are 2 steel pipes between the legs of the table. Other steel details on the table are 4 cup holders on the side behind the goal, which indicates that the table is made for hobby players. I am not sure that tournament tables have cup holders. 🙂
When you look at the foosball field you can see that the table has smooth, dark green surface which provides fast play. The red and white players are counterbalanced, which is a huge plus and they are made in robotic design which provides great ball control. The player formation on the field is a 3-man goalie, which means that the last road (in front of the goal) has 3 players instead of 1.
TSA foosball table has hollow rods which makes them easier to move and provides faster reaction. The wooden handles on the rods are octagonal which provides excellent grip no matter how sweaty your hands are. I like the fact that the table has two side ball returns so you both can pick the ball and start another match. Side ball returns are better because they are under your reach so you don't have to walk to the other side of the table to pick up the ball.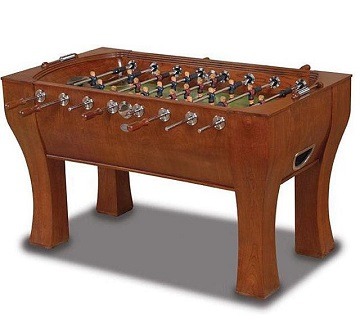 Since you can't find a TSA foosball table on the market that easily, I would recommend to look for a good quality table from some well-known brand like the Sportcraft Stadium foosball table.
PROS
Wooden construction
4 cup holders
Counterbalanced players
Hollow rods
CONS
Not on the market anymore
Could be better quality