Tornado as a brand is so well-known in the foosball world that it doesn't need any introduction. They are at the top since the 1970's and they have no plans to step down. Their products are high quality, durable and incredibly resistant to any kind of wear and tear. I have already made full reviews of few Tornado foosball table and it is time to introduce you to the Tornado Sport foosball table as well.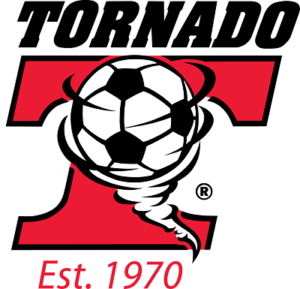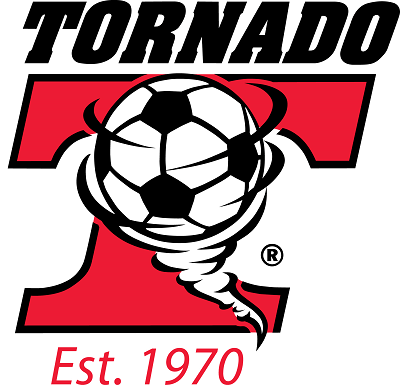 Before we start this review, I want to share a little history with you. Tornado Sport is actually made to replace the Tornado Whirlwind table. Their designs aren't similar but they share some features. Tornado Sport foosball table was introduced to the market in 2010 when the Tornado Whirlwind table was removed so if you want o get a Tornado Whirlwind, you can only get used one. To read a more detailed review about Tornado Whirlwind, you can go to this link.
I personally believe that Tornado Sport foosball table is a great foosball table with some features that could be better, but I will get to that in a while. First, let's take a look at the overall construction of the table. The construction is made from 1 inch thick MDF which provides durability. It is not a low-quality MDF so you don't have to worry about it. Every material used in Tornado tables is a good and quality material.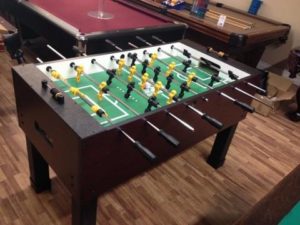 The thick construction makes is also a very stable table that will last for a long time. To provide 100% straight foosball field, the Tornado Sport foosball table has leg levelers which you can't see because the legs are covered with boots, so you have to insert them. I like the fact that you don't have to have straight floor to have the straight field. Leg levelers are one of the most important features in a modern foosball table because they aren't expensive feature, but they can do wonders for the table.
The foosball field on the table is made to green with white markings which resemble real football field. I like the fact that the markings are actually drawings and not stickers because stickers can peel off and ruin the field. Smooth foosball field provides intense gameplay and you don't have to worry you will move the table during the match because the table won't go anywhere.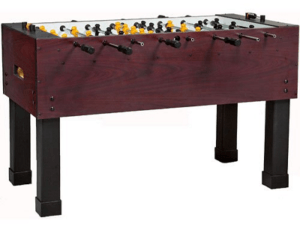 The biggest downside of this Tornado Sport foosball table is the lack of counterbalanced players. Most tables in that price range have counterbalanced players and most Tornado foosball tables have them. I have no idea why this foosball table doesn't have counterbalanced players, but they may change that in the future. If you want to control the players you will have to move the hollow steel rods and the fact that they are hollow will make the game even faster which is great. I don't like the fact that the handles are plastic, but they are made with the SureGrip feature which prevents them from slipping which is a good thing.
The overall design of the Tornado Sport foosball table is pretty cool. It doesn't have gazillion colors which means it can fit in any room and I like the fact that the construction has Mahogany Melamine finish. The players are in yellow and black color which looks pretty good on the greed and white foosball field. As you can see, it is a good foosball table, but I don't like the fact that it doesn't have counterbalanced players. That and some other features make it less quality than other Tornado foosball tables.
PROS
1-inch cabinet
Leg levelers
Plastic handles for better grip
Good quality ball
CONS
Price
No counterbalanced players