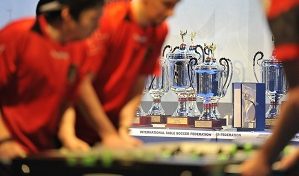 Even since the early days, people are competing against each other to show who is the best fooser. There are tournaments that dated back in the 1940s in Europe, but the first official foosball championship is considered the "Quarter Million Dollar Tour" held in 1976, in Seattle, Washington.
Today, the main fish in regulating the championship foosball is the International Table Soccer Federation (ITSF), based in France. The ITSF is the head of the foosball world and they have named 5 official tables of the federation Bonzini, Garlando, Roberto Sport, Tornado and Leonhart.
The ITSF organizes two events, the World Championship and the World Cup. Interesting thing is that they wanted for the World Cup to be at the same time as the FIFA World Cup. In 2009 they changed their mind and put the World Cup every year.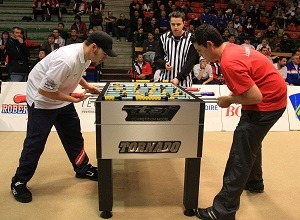 The world foosball championship is held annually and in the past, it only included American and European continent. 2013 was the year that changed a lot of things. That was the year when the biggest tournament was held with more than 500 players from 30 countries. They all flew to Nantes, France to play foosball. Since 2013 the ITSF decided to include Asian continent on the tournament as well so you can say that the foosball is one highly addictive game. In 2016, the Philippines hosted another foosball tournament called the Manila Bay Open.
If you want to be a part of the 2017 championship foosball find the event near you and enjoy some professional foosball.