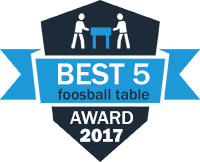 In the world where foosball is more than just a hobby, it is hard to be at the top of the best foosball table list. All those tables that are on this list are the best of the best. They have it all and there is a reason why they are here. Let me show you which tables are on this list and why are those tables here.
BEST 5 FOOSBALL TABLES IN 2018
EastPoint Durango Foosball Table
Well, the EastPoint is one of those companies that don't need an introduction. They are amazing, not just in foosball world, but in the entire sporting world. It was hard to pick the best foosball table from EastPoint, but I have to say that the Durango foosball table won. Everything on it looks awesome, the frame, legs, rods, players, even the scoring system. When you look closely you can see that the rods and the players have a special bronze finish which gives it really unique design. Now, rods and players have much more than just an interesting finish. The players are counterbalanced with special foot design which makes the ball control easier. Also, rods, just like players, are made from steel with special High-Performance Rod Bushings feature. That will provide you fast game and you will feel the adrenaline coming.
Specifications:
Great wooden and bronze design
Special players foot design
Counterbalanced players
High-Performance Rod Bushings for fast play
Warrior Professional Foosball Table
Warrior is a company that knows how to make the perfect foosball table for some specific price range. The best proof of that is the Warrior Professional Foosball Table. People in Warrior have described this table as the table made for professional players but affordable to the general public and I couldn't agree more! It has a high-quality frame with unique rod guard system. Now, why is that important? Because you can prevent your kids from hitting the head on the rods. It really is made for families and the general public. Now, don't assume that the table is only made for the general public because the table has everything the best foosball table should have. It has counterbalanced men with special foot design, excellent handle grip, leg levelers so you can play on any surface and rubber feet to keep the table from sliding. No more excuses, like the handle, was slippery or the table moved. With this table, you will improve your game in no time.
Specifications:
Slick black design
Special player foot design
Counterbalanced players
Excellent grip on the handles
Leg levelers with rubber feet
Kick Legend 55″ Foosball Table
Kick is a company which won't disappoint. What I like about them is the fact that those foosball tables are made with attention to details and I can say I am happy with all of their designs. But, today we will focus on the best foosball table from Kick – the Kick Legend.  The Kick Legend is a table that stands out because it looks awesome and it is a pleasure to play foosball on it. The frame of the table is made from chestnut wood grain and those curvy legs are made from ebony. I love the wooden design on the foosball table and this design is pretty impressive. Now, enough with the design, let's talk about performance. Counterbalanced men, chrome-plated rods, front ball return, all that for the amazing gaming experience. The chrome-plated rods control the players with high precision and the field is so well made it doesn't have any dead spots on it. No more breaks because the ball ended up in a corner or the players can't reach it.
Specifications:
Great wooden design
Counterbalanced players
Chrome-plated rods for perfect player's control
No dead balls
Carrom Signature Foosball Table – Wild Cherry
I have put this foosball table on the best foosball tables list because it is one of the most stable foosball tables here. Besides leg levelers, which provide you the best gameplay on any surface, this table also has a rod between two legs for maximum stability. Good luck moving this table while playing! The frame of the table is made from a wild cherry laminate and it looks awesome. The play is fast and interesting because it features hollow rods which are easier to move than solid ones, also the handles are eight-sided and they fit nicely in your palm. Don't even think about blaming the handle for slipping, we all know that is not possible. Players are of course counterbalanced, with special foot design for the best ball control.
Specifications:
Wild cherry laminate
Special player foot design
Counterbalanced players
Eight-sided handle on the rods
Additional rod between legs for max stability
Tornado T3000
Tornado has become the most recognizable brand in foosball table world and it would be one weird looking list if Tornado foosball table wasn't involved. I have decided to show you the Tornado T3000 because it is really one of the best foosball tables ever made by Tornado. The Tornado T3000 is a professionally made table, used for tournaments and you know that tournament tables are a perfect quality. It has an extremely stable frame, counterbalanced men, steel brushed rods, no dead spots and what is the most important, it lasts a lifetime. Now, Tornado foosball table has a high price, but when you see its quality and excellent performance, you will see that the price is actually just right. There is another model just like the Tornado T3000 and the only difference is that the other one is a coin operated table. Both of them have the same materials, the same colors and the same quality. Let me just say that the coin operated arcade games should be durable because the high amount of people is playing on them all the time so the chances to break something are very high.
Specifications:
Premium quality materials – for tournaments
Special Tornado players design
Counterbalanced players
Smooth steel rods provide fast play
Super high grip on the handles
Made in Richland Hills, Texas, USA