As one of the most popular movie franchise in the world, Star Wars has many collectibles, including the foosball table. Since it is a Star Wars foosball table I would immediately say that this is a product for Star Wars fans. I am not talking about Star Wars table tops or small tables you can buy from some unknown brand, but I am talking about Star Wars table made by Sportcraft. To see if the table is as good as the best movie in the entire world, read the review below.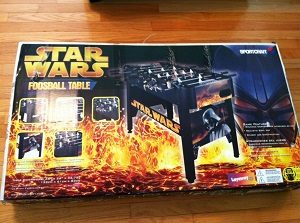 Star Wars foosball table was sold only one season, as a limited edition during 2005, which makes it interesting for all Star Wars fans. The foosball players are actually Star Wars characters divided into two teams. One team are Stormtroopers and another team is Super Battle Droids. Both teams represent the constant battle between good and evil but told in the Star Wars tone. The entire table is a tribute to the Star Wars with characteristic players and overall cabinet design.
The design of Star Wars foosball table resembles the Sportcraft Phyton Hydro foosball table, which is a foosball table made for kids. It is not the best Sportcraft foosball table and neither is this one.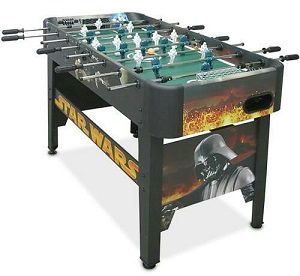 When you look at the table, you will notice that it has two side panels on each end of the table which provides durability and extra stability. To make it even more stable they have put another board between legs on both sides of the table. The cabinet is made with some combination of plastic and plywood so I think that the quality is not so good. The rods on the table are steel and hollow for better and faster game. The handles on the Star Wars foosball table are made from plastic which is not the best choice because the plastic can be slippery. The players are also made from plastic so they are light, but not so durable.
Since the table is a limited edition you can't buy it anymore. The table was on the market for Christmas in 2005 and most people who bought it as a Christmas present for their kids. I admit that this foosball table is entirely made for kids and that adults won't enjoy it. Today, if you try to Google the table you will find many ads saying Star Wars foosball table for sale. People who bought it during 2005 and didn't open it until now, can sell it with 2 or even 3 times the value of the table, which is less than $100.
PROS
2 side panels for stability
Hollow steel rods
Made for kids
Leg levelers
CONS
End ball return
Players are made from plastic
Plastic handles
Could be better quality