The foosball table is the center of socializing as well as healthy competition in the home, bar and even office. Actually, studies have found that giving recreational activities in the workplace increases the productivity which indicates that it would be a great idea to add a foosball table in your office, for example, a Sportcraft foosball table.

The Sportcraft foosball table isn't commonly known as the tournament table. Actually, you can hardly see it take place in the tournament setting. But, they are very popular. Why? Because they look amazing and don't cost that much money. The Sportcraft soccer table is crafted from the cheap but durable material.  A foosball has become the game which is catching up and more and more people are playing it. It is fun and you can enjoy every minute of the game and that is what a Sportcraft company is focusing – having fun.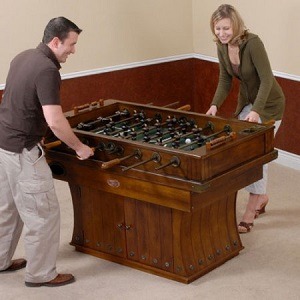 Another great thing about Sportcraft foosball table:  they look like the work of art. The Sportcraft is one of foosball table makers that have managed to penetrate in some of biggest chains in the United States, which is not so easy and Sportcraft knows that. Due to that, they give some totally fantastic customer service because they know that customers are the most important. Actually, you won't have any kind of difficulty in sourcing spare parts you want for the table. This can ensure that this results in you having the happy use of this for a lot of many years.
Sportcraft Company is in the existence from 1926. It was funded by the husband and wife Walter and Sophia Holdstien. They traveled back in Europe on the family visit where they were impressed with the level of the interest for backyard games. They started a business with the badminton and croquette, through 1900, and they expanded the game manufacturing to the table tennis, darts, and foosball tables. Since then, the Sportcraft foosball table is on the market and even though it isn't recommended for the tournament playing, they are good for the home games because they provide fun for entire family. 
SPORTCRAFT FOOSBALL TABLE REVIEWS
Sportcraft 48inch Playmaker Foosball Table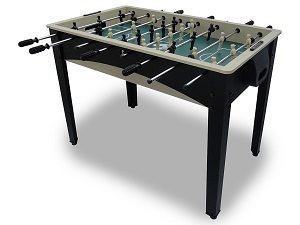 This Sportcraft foosball table is, particularly for children. This is made for the rough play without any concern of playing as the professional. It comes with 3-men goalie system for easier scoring; the chrome plated rods and atomically balanced players, as well as the front ball return. The cabinet is made of the black with the silver trim that will enhance handsome features of the foosball table.  With the Sportcraft soccer table, you and your family will be sure to have plenty of hours of fun and entertainment. Quality of the Sportcraft 48inch Playmaker shows you that it is also made for kids (like mentioned before) and it is the best for a price. You won't find better Sportcraft table soccer in that price as well as with such features. This is a good starter table to kids who would like to learn rules of playing the foosball while having fun. The table is simple to assemble, as instructions and diagrams were very straightforward to know. Even though it is so, it will take the time to assemble because it has many components.
PROS
Safe
Durable
Counterbalanced players
Chrome plated rods
Sportcraft AMF Varsity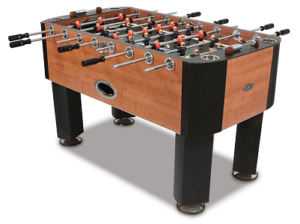 Sportcraft AMF Varsity table is in the class by itself. This is made for the professional players as well as is the commercial grade material. It is made to last; the Sportcraft foosball table is balanced with the sleek playing surface, and strong steel corners for the heavy duty play, best-playing control with solid steel rods as well as balanced players. The table has legs that are very solid, balanced with the leg levelers. The scoring game can be done with bead style feature. The shipping weight for the item is over 268 pounds.
PROS
Solid legs with leg levelers
Durable
Counterbalanced players
Good for heavy duty play
Sportcraft Oxford Foosball Table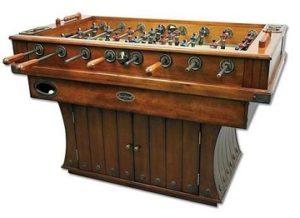 This Sportcraft foosball table is the most impressive looking Sportcraft table in my opinion. When you look at it, you can see that it has a unique design. You can have it as a piece of furniture (aesthetic purposes) or as a foosball table. The great thing about this table is the fact that it has storage under the table. But, it is more as recreational foosball table than the one used in tournaments, so it is a hobby.
PROS
Hand carved foosball players
Storage cabinet under the table
Durable
Great design
Side ball returns
Metal drink holders
CONS
big dimensions – needs extra space
Sportcraft AMF Coliseum Foosball Table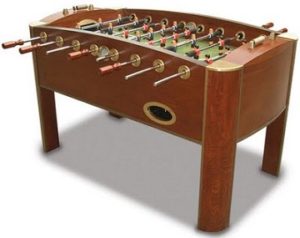 AMF Coliseum table is made with care and it is a high-quality piece of furniture. Yes, it looks like a piece of furniture and you can see why Sportcraft tables are so wanted. The design is sleek and elegant so it can fit in any room. This Sportcraft foosball table has traditional players which are counterbalanced but have rounded toes so the ball can go in any direction. Wooden handles are slippery so my opinion is to go with rubber handles. The Sportcraft soccer table is made from wood so you can see why handles are also wooden. My point is, if you value style more than performance, then this is the best Sportcraft model for you.
PROS
Great design
Entirely made from wood
Traditionally made players
Three men goalie
Counterbalanced men
CONS
Rounded feet on men
Slippery handles
Slow rods
Sportcraft Stadium Foosball Table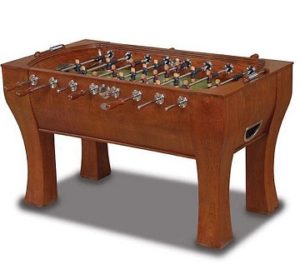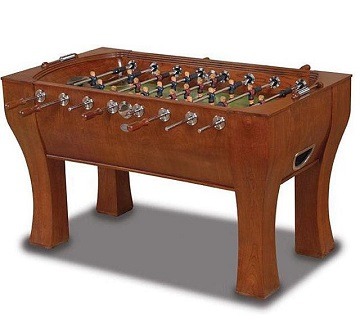 Like you already noticed, Sportcraft tables are wooden tables and this one isn't an exception. Sportcraft Stadium foosball table is made entirely from wood which makes it heavy and solid and that is a big plus. Just like with the Sportcraft foosball table above, this table has traditional players with rounded toes, which isn't a plus. But, they are counterbalanced so that is a good thing. It weighs 185 pounds so you can see that it is a solid piece of a foosball table. Rods for controlling players are solid, not hollow so they are a little bit slower.
PROS
Solid and heavy table
Counterbalanced players
Good price
Great design
CONS
Solid rods
Players have rounded feet
Sportcraft ESPN Striker Foosball Table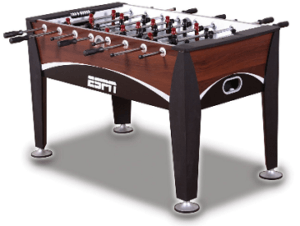 ESPN Striker Foosball Table made by Sportcraft is a good quality piece of foosball table for ESPN fans. It is not made for the tournament, but for playing in a party or in a home atmosphere. It has a higher price than it should have due to ESPN logo, but that shouldn't be the problem with true ESPN fans. This Sportcraft soccer table has leg levelers and lightweight steel rods so you can see it is a good quality table, but not the best.
PROS
Leg levelers
Cool ESPN design
Lightweight rods
Sportcraft Melbourne Foosball Table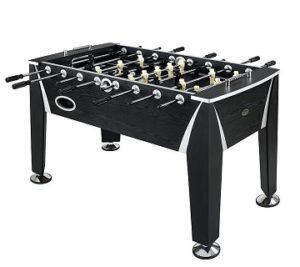 Just like the Sportcraft foosball table above, this is a good quality table made for playing with friends, not tournament. The design is really good, which I can say to almost every Sportcraft table. It has adjustable leg levelers which are a must have in any foosball table and one thing that I like – the side ball return. The quality of this table is overall OK, but rods and players could be better. The gameplay is organized in a three-man goalie system.
PROS
Great design
Leg levelers
Side ball return
CONS
Quality
Rods could be better
Sportcraft Aurora Foosball Table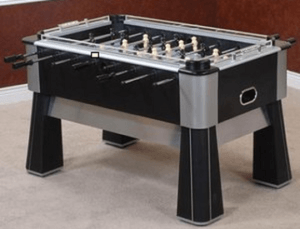 This Sportcraft soccer table is actually different in design than other tables. Those tables have a rustic design, but this one is more futuristic design. You can see that in a sliver-black combination and the position of the legs. But, it doesn't have leg levelers and side ball return like the rest of Sportcraft foosball tables. It is more for a rookie enthusiast than for an advanced player. Due to the design, you can't perform complicated moves.
PROS
Futuristic design
For hobby players
CONS
No leg levelers
Overall quality
Sportcraft Interceptor Foosball Table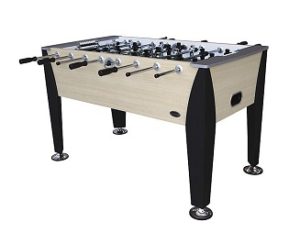 Interceptor Foosball Table is an average foosball table. It is made for hobby players, but it could be better quality. Even though it isn't a tournament material, one family can spend a lot of hours having fun on it. In my opinion, this foosball table doesn't have that good look like the rest of the Sportcraft foosball tables. It weighs about 95 pounds, so you can see it could be heavier. You can see the leg levelers on the picture and that is a big plus.
PROS
Leg levelers
For entire family
Great design
CONS
Quality
End ball return
Plastic foosball rods
Sportcraft AMF Torino Foosball Table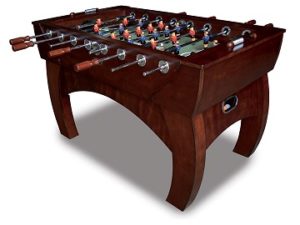 AMF Torino Foosball Table is considered as the best and the most expensive Sportcraft Foosball table and you will see why. It is made from dark cherry wood which makes it very durable, heavy and solid. His design is extra sleek and you can place it in a living room without worrying it won't fit in. It has counterbalanced men, but the rods which control men are slow and heavy so that is a downside. It is an elegant Sportcraft soccer table, made for home tournaments against friends, not professional ones.
PROS
Made from cherry wood
Counterbalanced men
Heavy and solid
CONS
End ball return
Heavy rods
Sportcraft Hartford Foosball Table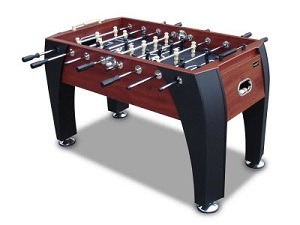 Hartford is the Sportcraft foosball table which hangs in the middle. It is not made with best quality materials, but it isn't the worst foosball table in the world. It is an average foosball table, good enough for a rookie player, but not good for a professional player. The table has a 3-man goalie system on the field. The players are controlled with the Chrome-plated rods. Another feature worth mentioning is adjustable leg levelers so you can always play the game on the straight surface. The design of the table looks great, like almost every other Sportcraft soccer table, but the performance could be better.

PROS
3-man goalie system
Chrome-plated rods
Adjustable leg levelers
Sportcraft Python Hydro Foosball table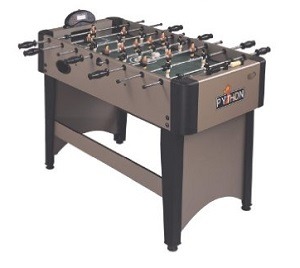 Like the foosball table mentioned above, this is also not the best foosball table made by Sportcraft. It is better for kids because it has some troubles with performance and kids won't be bothered with it. If you are an advanced foosball player, look for another model of Sportcraft foosball table because you won't be satisfied with this one. The another thing why I find it good for kids is the sound effects it has. When you score the goal you will hear the sound and I am sure kids will love that. All in all, it is an OK piece of foosball table and the price is like the quality. Not high.
PROS
1-man goalie system
Side ball return
Price
Sound effects
CONS
Plastic handles
Quality
Plastic men