The term portable is not so common in a combination with foosball table, but that doesn't mean it is not possible. There is more than one portable foosball table on the market and today I want to show you what your options in this category are. One of the most important features one foosball table has to have is the stability, and a foosball table which is portable doesn't sound so stable, right? You don't have to worry about the stability of those foosball tables because they are designed with portability and stability together.
What Are The Types of Portable Foosball Tables?
There is more than one portable foosball table and they all look different, have a different price and are made for different players. Just like with the normal foosball table you have to know what you are looking for before you start shopping or you will get confused easily. Foosball market is big and the variety is big so try to keep your mind open when you start browsing foosball tables.
The first and the most common portable foosball table is tabletop. A tabletop is a table without legs so you need to place in on a surface to play. Since the tabletop is actually only a cabinet, it is extremely portable and easy to store. Tabletops are usually smaller than the standard sized foosball table which makes them convenient for small rooms. Also, you can easily store it under the bed when you are done with it, that is how easy it to transport it. One thing you have to consider is the fact that tabletops are lighter and less stable than other foosball tables. Depending on the quality, they can be cheap, small, big, high-quality, low-quality etc. If you are a professional or more advanced foosball player, I would recommend sitting this type of portable foosball table out, because this is not the best solution for you, mainly due to the size of the tabletop. Most tabletops are made for kids or a little larger than that. There are maybe one to two tabletops on the market which are big as a real foosball table.
Sport Squad FX40 Foosball Table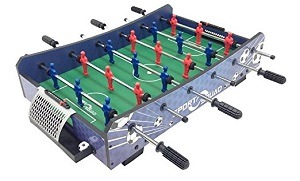 It is one of the best tabletops on the market because it has the size and the quality. It is heavy and big enough for adults to play on it as much as kids, if you are a hobby player. Like I already mentioned, I wouldn't recommend any tabletop for advanced and professional players. The players are controlled by the steel rods and rubber handles which is far better solution than the plastic ones. This portable foosball table has small legs which you can remove and I think it is better to play without them. The price of the table is pretty good and I think the table has great price to quality ratio and it is a great piece for beginners.
PROS
Steel rods
Rubber handles
Removable legs
CONS
Plastic handles
Not for advanced players
Trademark Innovations Tabletop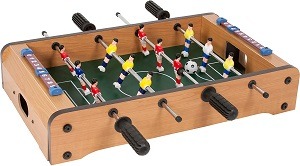 I like this tabletop because it is made especially for kids. It is like a pocket version of foosball table because it is smaller than other tabletops. As you can see on the table, there are 4 steel rods in total, usually there are 4 rods on one side. This table is easily portable foosball table and it is easy to store it. Yes, it is made from the MDF which makes it light and not so durable, but I think it doesn't matter because it is a table you would buy for your kid. Your kid will have so much fun and when you are traveling you can put it in the back seat of the car without any problem.
PROS
Made for kids
MDF
Portable
CONS
Smaller size
Not so durable
Light
Another, bigger portable foosball table is also a foldable table. It is a standard sized foosball table which has the ability to fold for easier transportation and storage. It looks like an ordinary foosball table, but it has curved legs on one end. The other end can fold the legs on the bottom of the table and you can rotate the cabinet for 90° so it will stay up. Most of those foldable foosball tables have little wheels on the curved legs for easier transportation. Even though the table is foldable, that doesn't mean you can fold it under a minute. Most tables require assembly to achieve the foldable feature which is great because they would be too unstable. The folding should require screws, because if it is on some button or wire, it won't last.
René Pierre Winjoy Folding Foosball Table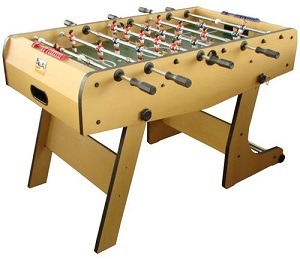 This foldable foosball table is made by Rene Pierre, which is a famous foosball brand. The table is made in France, where the headquarters or Rene Pierre is, so it is more quality than the portable foosball tables made in China. The cabinet is made from durable MDF, which is pretty good and I like the facts that the rods are telescopic, which his great for kids. What I don't like is the fact that the players aren't counterbalanced and I would recommend this table only if you don't mind the lack of counterbalanced feature. Rene Pierre has better and worse tables than this one, but this definitely has the foldable legs as one big advantage for small homes.
PROS
Durable MDF construction
Telescopic rods
Foldable legs
CONS
No counterbalanced men
Could be better quality
Kick Monarch Foosball Table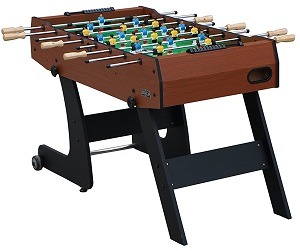 Every Kick foosball table is the same, so is this portable foosball table. I like one thing about Kick, they know what a foosball table has to have and every table is the same with them. The table has counterbalanced players, the option of choosing the 1-man or 3-man goalie system and high quality steel rods. This foldable foosball table has the same folding principle as the Rene Pierre above and I like the fact that you have to screw and unscrew the folding part of the table because it is much more safer that way.
PROS
Counterbalanced players
1-man & 3-man goalie
Good quality
CONS
Not as good as the real table
Portable foosball tables are great solutions for many situations, including lack of space because they can adjust to you and you can carry then wherever you feel like. I would recommend those tables for all hobby players who love to move around, changing the environment, just because they can.