When you think about the most expensive foosball table you expect to be impressed with it and with this model, you will absolutely be impressed. At the first glance, it looks like something extraterrestrial, like it is not from this world. Foosball tables are tables with legs and playing surface, but this table is really unique. But, before we start to talk about the design, let's talk about money. This unique design of foosball table will make you pay 85,000€ for an amazing piece of furniture and honestly, it looks like that.
Design Of The Most Expensive Foosball Table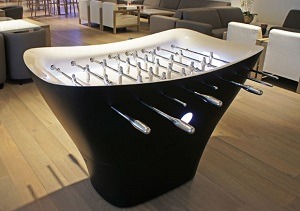 It is not an ordinary foosball table design; it doesn't look like a foosball table at all. The design of the most expensive foosball table resembles modern football stadiums all over the Europe. The table will absolutely draw attention wherever you put it. Every part of the table is handmade and the process of making the table lasts more than 12 weeks. The entire foosball table is made by a team of European craftsmen who know what they are doing. They made a masterpiece with great quality and impressive design.
The rods and the players are covered with a smooth chrome finish and every player has its own number embedded on the surface. As if the table itself isn't impressive, they have made special lighting effects on the table so you can really feel the game you are playing.
11 – The Beautiful Game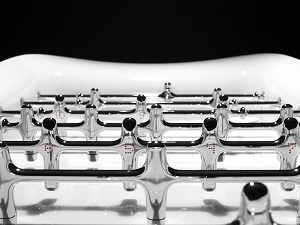 The most expensive foosball table is called "11-The Beautiful Game". The number "11" stands for the number of players in one team. The table consists of 2 teams, which means there are 22 players in the game. The second part of the name – "The Beautiful Game" isn't about the foosball table, but actually about football (or soccer).
This amazing foosball table was made in cooperation of GRO design and Tim modelmakers was actually made for the Milan Design Week, which was held 16th-24th April 2008.
Today, you can buy the table in basic Black and White with the starting price of 85,000€. For all other questions and inquiries, you can contact the team behind this amazing foosball table.