If you want to buy a foosball table for kids the best solution is to buy smaller foosball tables like tabletops. The tabletop is the perfect kid-size foosball table because it is small and light. The important thing you have to know when buying a kid-size foosball table is that the ordinary foosball table is too big for kids. First of all, most kids can't reach the rods or look at the playing surface. Also, kids usually climb on a chair to see the field and that can result in injury so definitely avoid standard sized table for kids.
A tabletop is a foosball table which you can put on the table because it doesn't have legs. It is just a frame and a playing surface. But, if you aren't interested in tabletops, there are smaller foosball tables made especially for kids. Today we will make short reviews of 3 kid-sized foosball tables.
Sport Squad FX40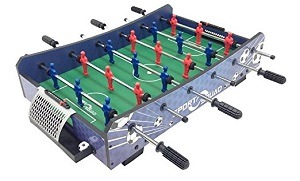 The first foosball table on our list is actually a tabletop. I find table tops better because you can put them in the closet when kids aren't using it. You can put it on the floor, on the table, on the bed; you don't have to have extra room for it. This tabletop is good quality, but it is really light. That is why I would recommend it for kids and not for adults. Also, the design of the tabletop is more appropriate for kids than for adults. The price isn't high, but the table is good quality so it has a really good price-quality ratio.
PROS
Easy to store
Desing made for kids
Good quality for kids
Trademark Innovations Table Top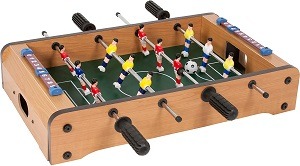 This good quality foosball table is made to be light and durable. The material used in this kid-size foosball table is manufactured wood which is covered with a brown wood finish so it doesn't look too childish. Just like the tabletop above, it is extremely easy to store and your kids will have tons of fun playing foosball. It may be too small for adults, but for occasional foosball match, it is a good choice.
PROS
Durable
Easy to store
MDF
Majik 3200 Foosball Table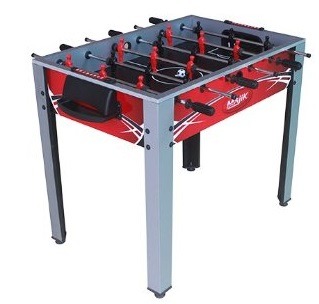 This table is a bigger but it is still a good kid size foosball table and it is made by the EastPoint brand, which is a famous name on the foosball table market. This is not a tabletop, it has 4 legs, but it is smaller than the ordinary foosball table. I find this foosball table awesome idea for a birthday or Christmas because it is a good quality and the price is not very high. If you are looking for a foosball table for a kid who doesn't know what a foosball is, I suggest you buy this table. But, keep in mind that it won't provide an excellent experience for adults.
PROS
Size for kids
Good quality