The outdoor foosball table cover is the most important accessory you can have for the table. You can have the best foosball table on the market but if you don't maintain it properly, it won't last as long as it should. This is especially important if the table is outside in your backyard. Keep in mind if you want to keep the table outside, it has to be the outside foosball table and it has to have an outdoor foosball table cover.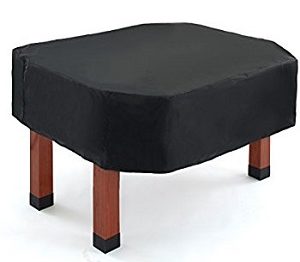 The outdoor foosball table cover prevents rain, leaves and other debris to land on the table. But, not all table covers are good and it is important to know which table cover is for outdoors and which is for indoors. There is a difference between an indoor and an outdoor foosball table covers.The outdoor foosball table cover should be waterproof and it mustn't be transparent. The cover protects the table from rain, leaves, and sun (which is important if you want to protect the color of the table).
Usually, the best choice for that kind of cover is a vinyl cover, but there are also polyester and Naugahyde covers – better for indoor.
The most important part you have to keep in mind while choosing the cover for the foosball table is the size of the table and the cover. Not every table is the same size and not every table has the same design. Choose the cover which is slightly bigger than your table. Also, keep in mind the rods, if you have telescopic rods or not, because the cover should come over the entire table.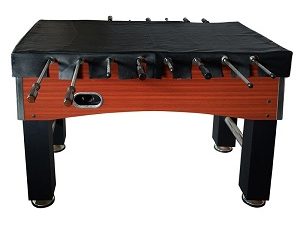 When it comes to the size of the cover you can choose from covering the entire table or covering only the playing surface. If you are looking for outdoor foosball table cover, use the ones which cover your entire foosball table or the legs of the table won't last long. Now, the only problem with this kind of cover is the storage for it when you are using the table.
The price of the cover shouldn't be a problem because it is an investment in your table's maintenance. Make sure you buy the best outdoor foosball table cover and you will have top notch foosball table for years.