One of the main things you have to investigate before buying a foosball table is the price of the table and your budget. Due to that you have to ask yourself how much is a foosball table? And how much can I give for a foosball table? You have to keep in mind that a good quality table isn't cheap. Before going shopping and looking for a table, think about the price and your budget. That way, you can adjust the table to your budget and not the other way around. There are huge number of foosball brands and even more foosball tables and they aren't all the same. There are cheap foosball tables, expensive foosball tables, good ones, bad ones, small ones and big ones. How can you know what is a good cost of a foosball table? It all depends on what you want to have.
How much is a foosball table?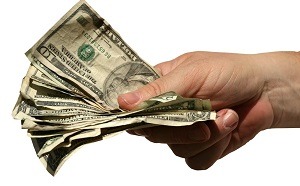 A foosball table cost can vary from $20 to &10,000 and it all depends on your requirements which is your price range. I would definitely recommend focusing on quality of the table, especially if you want to have it for ages, but first, let's focus on what type of foosball table do you need. Let's answer to the how much is a foosball table question by categorizing the tables by their price.
Under $100
If you want to buy your kid a foosball table and he/she doesn't know what a foosball is, I think that a cheap kid's foosball table could be a good choice. One of the reasons for that is the fact that you don't know whether your kid will love it or not. If you spend a couple of hundred dollars on a table and the table ends up sitting in the corner of your kid's room, well that is not money well spent. For a starter foosball table I would recommend to get a foosball table which costs below $100 just to see if your kid likes it. If your kid loves it and the table ends up a huge hit you can easily upgrade the table when this one breaks. If your kid ignores it, well you lost less than $100. You can always donate the table to someone in need.
Between $100-$500
This category is for your kid when he figures out that the foosball is awesome. A $100-$500 is a cost of a foosball table which is not the best, but not the worst. I believe that a good quality kid's foosball tables are in this price range. A good thing about kid's table is the fact that they don't have to be with counterbalanced men, cup holders; they can be light or made from plastic. Kids love foosball for the game and they won't mind if they can't perform foosball tricks or that the ball doesn't run as smoothly as on the tempered glass. The entire kid's foosball table can be plastic and that is the reason why you will have a smile on your face when you ask the clerk: How much is a foosball table?
Between $500-$1,000
This is more serious category in our how much is a foosball table article. Tables made in this price range are good quality, durable, stable and have many features one good foosball table should have. Those are tables made for hobby or advanced players who play foosball regularly at home with family and friends. This cost of a foosball table should guarantee that table has, for example, counterbalanced players, leg levelers, no stickers on the playing field, steel rods or cup holders. Every feature depends on the model but when you know what your budget is, it is easy to find the table with wanted features.
Above $1,000
Every foosball table above this price range is great quality foosball table. Those tables will last for ages and they are made for advanced players and even professional players. Tornado, Garlando, Warrior and other really good brands are in this price range. When you get a table which costs more than $1,000 you will get a high-quality table which has an amazing performance and which will last almost forever. If you are looking for a table in this category than the question how much is a foosball table, is not something that should bother you because in this category, people look at the foosball table as a form of investment, not a thing.