Harvil is American brand of game tables with headquarters located in Los Angeles, California under the ownership of Dazadi. They are most famous for their good quality products with affordable price. Besides foosball tables, they are also producing pool tables, air hockey tables, dart boards, shuffleboards and many other types of game tables. The most famous Harvil table is the Striker foosball table and today I want to share some information with you through the Harvil Striker soccer table review.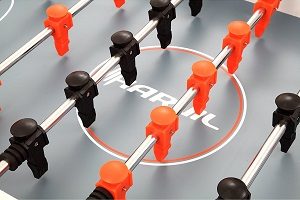 The Striker is made with ½ thick CARBC Certified MDF, which means that the MDF is California Resources Board certified wood construction and as you can see; it is everything but low quality. You can see the square design of the legs that the table is very stable. Like other good foosball tables, Striker foosball table has leg levelers which can provide you 100% straight surface on an uneven floor so you don't have to worry about the ball rolling on one side of the table.
When it comes to foosball field, Striker provides a smooth surface which will allow you to play foosball for hours without interruption. The players on the field are in 3-man goalie formation which guarantees an extra intense match. The quality of the players is impressive because they are all ABS molded plastic men which makes them very durable. They have a robotic design and they have a little rectangle on their feet and the surface on the feet is not smooth. That is for better ball control.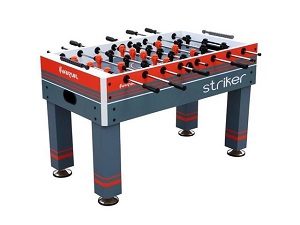 The rods which are controlling the players made from steel which makes them extra durable. Plastic handles are designed so your hand won't slip, but I do prefer wooden handles. The ball return on the Striker foosball table is in the end and I am not a fan of that. I love when the ball return is on the side so you can grab the ball quickly and continue to play.
The overall design of the table is not too childish, but the table is definitely not a tournament material. The entire cabinet and the legs are covered in the combination of red, grey and white which can be tricky to fit in the room. The quality of the table can put it in the average foosball tables which suit teens and hobby players more than the advanced players. I love the fact that the price of the table is not high at all and when you look at the price and the quality, the table is a very good investment. Just don't expect the same experience you can have on the professional and high-quality foosball tables.
PROS
½ thick CARBC Certified MDF
ABS molded plastic players
Made for kids
Great price – value ratio
CONS
End ball return
Quality
Plastic handles