Want to know more about which is the best Halex table? That is great, as today I will present you the brand and which models, but first, let us take a closer look at the history of the brand. The Halex brand is around for more than 80 years. Company's primary focus was the table tennis and after that, they added to the production some other table games, including the Halex foosball table.

The quality of the Halex foosball table isn't up to the professional standards however, they are good for the home and the clubhouse uses. The company is now no longer known as the Halex as it is owned by the umbrella company named Regent Sports.  But, that doesn't mean that the product is made with any less quality than before. It is still the same brand with the same product and the same materials.
Purchasing the Halex foosball table isn't very difficult. Prior to buying, you will browse the internet and that is what's recommended. Due to that, I have prepared short reviews of every foosball table made by the Halex on the market and I am sure you will find what you are looking for. Halex has low and high-cost foosball tables and it is up to you to see which one to buy. Some Halex tables might be a little more of the cost, but being looked at quality material that is used in manufacturing, beauty, and sturdiness, I am sure you will totally fall in love with them.
HALEX FOOSBALL TABLE REVIEWS
Halex50570 Pillar Wood Foosball Table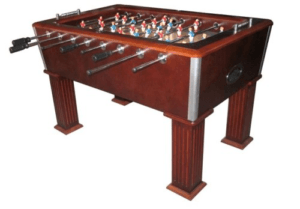 The Halex foosball table actually is the remarkable table for the home play. The table is 56.5 in long, 36 in wide, and 35 in high. This is very big and, what is important, sturdy enough so it can withstand the rough play. On the other hand, it is whereas simple to store at any space comfortably. This has got 2 distinct colors players to the teams, Red and Blue. Rods are 16 mm thick with the black hand grips for better comfort. This Halex soccer table is totally worth a buy and you can get the attractive piece of the playing equipment for the game room, which will provide you plenty of fun with friends and family.
PROS
Strong and sturdy
Durable
High quality
Halex50156 Monterey Foosball Table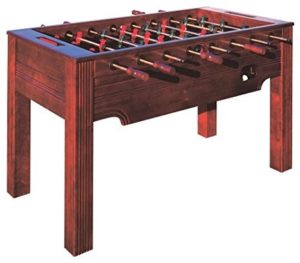 The 50156 Monterey Halex foosball table is home foosball dream. The table is very sturdy with the right balance of enthusiastic play. It is quality piece is of wood as well as is very attractive no matter where you put it. There is no conflict to this blending in with the traditional and the contemporary furnishings. Halex Monterey table is very impressive, looks even better in reality than in the picture. Wooden rods generally tend to wear and become loose over the years, especially if you play rough foosball, however, is very easily remedied with the handy screwdriver.
PROS
Nickel plated and stainless steel rods
Oak cabinet with the walnut finish
Metal ball bearings
Wooden handles & scorer
Robot feature with weighted players
Sturdy square legs
Side ball return
Halex Galaxy 54 inch Table – Butcher Block Foosball Table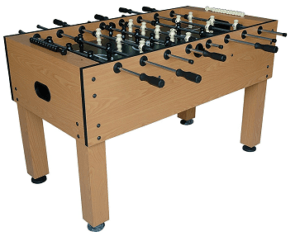 This Halex table is the higher end of Halex models, and the price is also very good. Purchasing sturdy and attractive Halex foosball table you're sure to have plenty of fun in playing. Not best for the championship playing, but, you're in a league of people who want to play with the chance to experience euphoria like at any tournament while you play with your friends or family, then this is a Halex model for you. All these components are well connected which helps this table to feel very stable. On the other hand, if your table is only for the beginner player, and for children's room, then you may consider the tabletop model.
PROS
Complete Butcher Block Table Cabinet
Grass looking field and white line out
Solid Rods with the Black Handles
Manual Scoring Beads
2 colors players – Ivory and Black
Halex50512 Defender 58 inch Foosball Table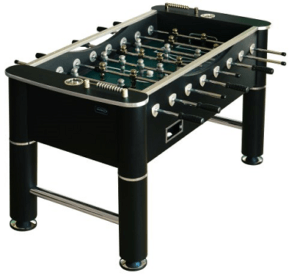 The Defender foosball table is a nice table which you can have in your home or in man cave to have fun with the friends that are the true foosball players. All components in the table are well connected. Price is not very out of a way for the quality of a Halex foosball table, so the table is the good buy. Keep in mind that you have to have a 7 by 8 foot of space for this table. The full-sized tables usually are made from the solid wood that makes them sturdy as well as can withstand the vigorous playing.
PROS
Two color players – Black and Silver
Black Graphite Finish
Sturdy Round Legs and Support Bar
Sturdy Leg Levelers
Manual Scorers Beads
Field looks like a soccer field
Black handles for comfortable grip
Halex Championship Foosball Table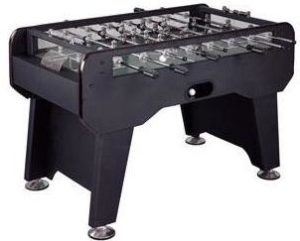 It is considered as one of the higher quality Halex products in foosball table department. As you can see on the picture, it is extra stable table due to two panels between from and back legs so you can be sure it can resist some hard foosball match. Rods on the table are hollow which provides easier player's control. This table comes with leg levelers so you can put it anywhere you want, just make sure you have enough space. Just like other Halex foosball tables, the field is colored white and green, like the real soccer field.
PROS
Panels between legs for sturdiness
Leg levelers
Hollow rods
Side ball return
Halex 50140 Stadium Foosball Table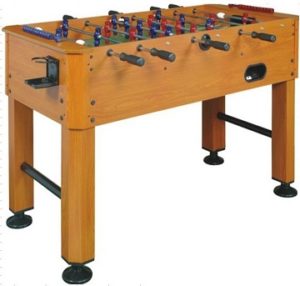 Stadium Foosball Table is a table perfect for home parties when you organize tournaments against friends. It is not a professional tournament material, but that doesn't mean it is not a good quality foosball table. This interesting foosball table has leg levelers and a side ball return which is the most important part. In addition, one little thing that makes it so popular for parties. It has 2 cup holders to place your drink when you are playing. No more spilling drinks on the table and running to get the mop. Similar to the another Halex foosball table, this table has 2 bars between the legs for extra sturdiness.
PROS
Bars between legs for extra sturdiness
Cup holders on each end
Leg levelers
Side ball return
Halex 50114 Retractable Foosball Table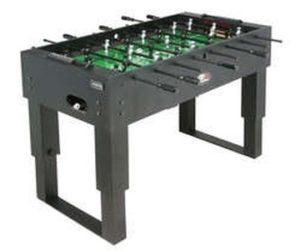 Retractable Foosball Table is a unique Halex foosball table, perfect for smaller rooms. As the name says, it is a retractable foosball table means it is made for all ages. You can adjust the height of the foosball table so your kids can play it many years. Unfortunately, this awesome addition makes it not so sturdy, but if the kids will play on it, it will be totally OK. Kids aren't that strong so most of the time they won't be able to move the table no matter how hard they try.
PROS
Height adjustable legs
Made for kids
Scoring with LED lighting
Halex 50102 Competition Foosball Table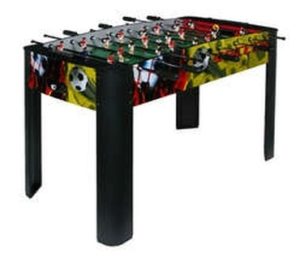 Another table from Halex is a Competition Foosball Table. Shorter than a regular foosball table it is made especially for kids. You can see that in the design itself.  If you aren't sure what can you buy for your kid's birthday, I recommend this foosball table because it is good quality and affordable and I am sure your kid will love it. It is one of those tables I would recommend as the first foosball table.
PROS
Adjusted for kids (shorter than classic)
Good design
Affordable
CONS
Lightweight
End side ball return
Halex Express Foosball Table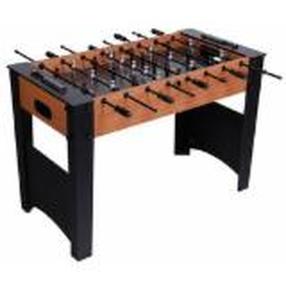 Express Foosball Table is another model made for kids with extra easy assembly. The fact that it is lightweight is good because you can easily move it around, but it is not that easy for kids to move it without effort. It is affordable and made from cheap materials so if this is the first foosball table for your kid, then it is a great pick – just like the Halex foosball table above. It has 1/2″ thick cabinet with black plastic handles. Actually, the entire foosball table is made from plastic. It would be better to have a side ball return but that is just a detail.
PROS
Easy to assemble
Lightweight
Great as 1st foosball table for your kid
Halex Lights & Sound Foosball Table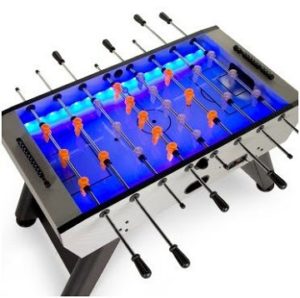 Lights & Sound Foosball Table is a unique Halex foosball table. If you want to focus on the game entirely then I wouldn't recommend this foosball table because it has LED light and speakers so you can play music while playing the game. It is the perfect foosball table for parties, just imagine listening to your MPS while playing. It performs a light show every time someone scores. But, don't worry, you can't break it, it is made from durable PVC laminate. The only thing that is missing are the cup holders, but you can always use a table near your for that.
PROS
LED lights
Plug your MP3 for music
Leg levelers
Side ball returns
Halex 50151 Piano Black Foosball Table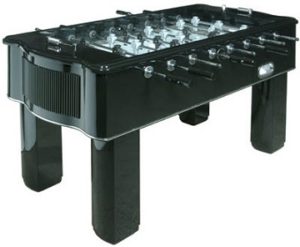 Just like the name says, the Piano Black Foosball Table is made to look like a piano. It has that black sleek shine every piano has with curves on the edges of the table. Even though it looks awesome, it has some downsides. For example, it has heavy rods, which makes hard to control players and it gets hard to control the ball with those players. On the other hand, it looks very heavy and sturdy so the rods are actually made like the rest of the table. When it comes to keeping the same design, they made it good.
PROS
Sleek black design
Blue under-light
CONS
Heavy rods
Handles can be slippery
Halex Titan Foosball Table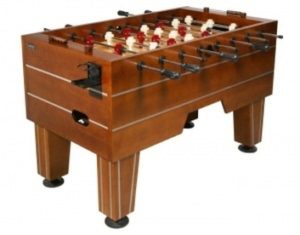 Titan Foosball Table really is a titan in Halex tables. It is the biggest and the heaviest table so you don't have to be afraid it won't stay in one place. It is not a tournament material, but it is totally OK for some competitive play between friends. You can even place your drink in cup holders when it is your turn to play. I am not completely happy with the design but if that is the only problem, I wouldn't worry too much.
PROS
Heavy and sturdy
Cup holders
Leg levelers
CONS
End ball return
Plastic handles could be better
Halex Cup Final Foosball Table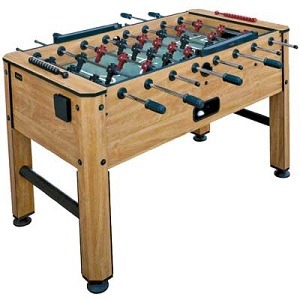 This Halex foosball table is actually pretty similar to the Stadium foosball table made from Halex. The design is almost identical and the quality as well. The bale is a well-made product with adjustable leg levers so you can play it on uneven surfaces without any problems. It also has 2 cup holders near each goal so it is definitely a table for parties. But, that doesn't mean that an advanced foosball player won't have a good time on it. The side ball return gives you the opportunity to quickly continue the game after scoring and the foosball players are good quality.
PROS
Cup holders
Leg levelers
Sturdy design