If you are looking for a best foosball table I have to say to you, prepare yourself for a ride. There are too many foosball tables on the market and each one of them suits a specific type of people and due to that, you should do your homework before buying the table because it is better to spend few days exploring than to spend your money on the wrong table. Due to that, I have made a little article about tables, foosball table parts, maintenance and other things you should know.
FOOSBALL TABLE TYPES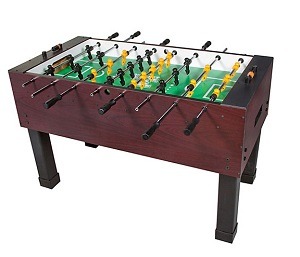 Before you start looking for a foosball table, think about how much room you have for it. A standard sized foosball table takes as much room as the work des or an office table. If you don't have room for that kind of table you can always get a smaller (kids) table or table top. If you don't have kids, I would suggest you buy a tabletop because most kids tables have a childish design, after all, they are made for kids. A tabletop is a perfect choice for small rooms because you can put it on the table and when you are done with it, you can put it somewhere where it won't get in the way. There are pretty amazing tabletops on the market, but you have to keep in mind that you can't have the same experience playing on the real foosball table and on the tabletop.
HOW TO BUY PROPER FOOSBALL TABLE FOR YOUR NEEDS?
Goalie configuration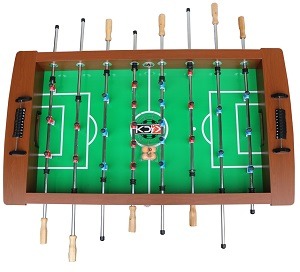 If you are a newbie in foosball table than the first item on this list won't help you much because it has everything with your game style and that is a goalie configuration. There are 2 different configurations for 2 different styles. European goalie configuration is a 1-man goalie. With that configuration people are more focused on the skill and the ball than on scoring. The American goalie configuration is a 3-man goalie because there, people are more focused on scoring the goal and play the game really fast.
Foosball Table surface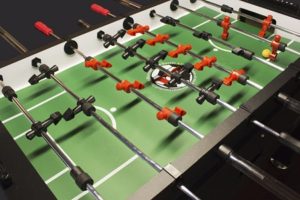 First thing's first, table surface should be 100% straight. No matter if you are buying a brand new table or a used one, don't buy a table which has bumps or any kinds of scratches on the surface. Also, if there are stickers on the "field", make sure that they won't peel off. If they do, they can change the ball's direction and that will affect your game. The best solution for that is to buy a table which has drawings on the field, not stickers. Now, let's talk about the material. If you want a 1-man goalie configuration and slower game, you should definitely go with the wooden surface. If you want the game to be extremely fast, then I suggest you smooth plastic, or even better, tempered glass, which won't break that easily.
Foosball table rods and players
There are important tips you should know about rods and players too. I will start with the rods. First, get steel rods because those are durable. Then, you can choose between solid and hollow rods, which depends on your style. If you like the fast game, choose hollow rods, because it is easier to move them fast than solid ones. There is one more thing before we go to the players and those are handles. Handles should be wooden, plastic and from rubber. Now, the rubber is the best because your hand won't slip on the rubber. Wooden handles are also ok, and on the last space I would put plastic, especially smooth plastic, you hand can easily slip.

When it comes to players, today there are two types of players on the field. Counterbalanced and not. Counterbalanced actually means that you can leave your player in a horizontal position and it will stay in that position. That can really improve your game. Another thing you have to keep in mind is the design of the players. I know that realistic players look pretty cool, but there are few problems with their feet. Since their feet are pointy they can hit the ball straight, but the ball can go left or right. To avoid that, people have made players with straight feet so they hit the ball with one straight surface and then the ball will go where you hit it.
FOOSBALL TABLE PRICE
One of the most important things is the budget. You have to know what is your budget and then look for a table with all those specifications combined with your budget. If you don't have enough money, you can always remove something from the specification list and do that with something you don't find important, for example, hollow/steel rods or a goalie configuration. But, my advice is better to spend a little more for better quality then little less and get disappointed.
Now, that is pretty much what you have to look out for when you are getting a foosball table. But, now, let's talk about what you need to do when you own a table and you want it to look excellent even after numerous years of hard football.
FOOSBALL TABLE MAINTENANCE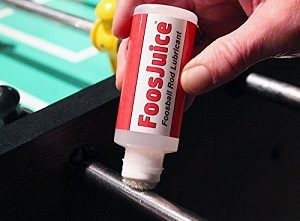 Don't' worry, you don't have to clean it every day for hours, but it is good to clean it from time to time. If you have a table outside, it is a great idea to get the cover for the table. That way, you can protect it from rain, the sun, and other debris. You can maintain your table in many ways and everything you need to know about maintaining your table you can find out in my post about table maintenance.
TOP 10 FOOSBALL TABLES
1. EastPoint Durango Foosball Table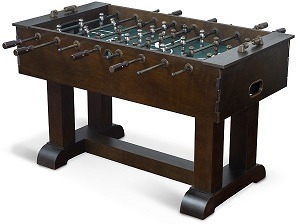 Eastpoint is a famous foosball table brand which does an excellent job with their foosball tables. This one table has a great wooden design with bronze details all over the table so if you are looking for a table that looks like a piece of furniture, I suggest this one. Besides that amazing design, it has high-performance rods which control the counterbalanced players.
2. Warrior Professional Foosball Table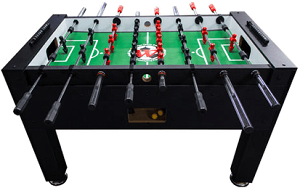 Just like the name says it is made for professionals so you can have high expectations about this table. It is not furniture like table, but it doesn't have to be because a professional foosball player would have a foosball table at home. Like the table above, this one also has counterbalanced players and it also has leg levelers to fight uneven floors and rubber feet so the table can't move an inch. Here you can read my article about Warrior foosball tables.
3. Kick Legend 55″ Foosball Table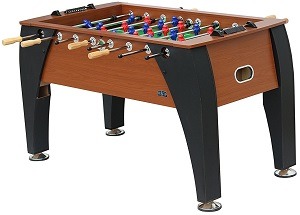 People in Kick are really proud of this table and they should. The table has a very interesting design, a combination of black and brown colors. The players are counterbalanced and that is extremely important. Besides that, the table also has leg levelers, chrome plated rods and a field so straight you won't have dead balls. Be free to check all Kick foosball table models.
4. Carrom Signature Foosball Table – Wild Cherry
Carrom Signature is a table I often mention because it is really a great piece of work. The design is a combination of furniture-like and real foosball table so it is great for a game room and living room. This table additionally has two bars between legs and that is to add support and stability to the table. Also I wrote all about this table in Carrom Signature foosball table review.
5.Tornado T3000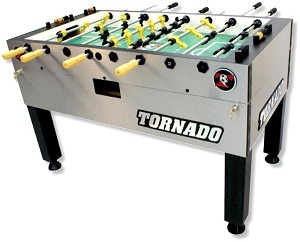 Now, the list wouldn't be the same without a Tornado foosball table and they are really the top of the foosball table manufacturers. I have chosen this table because it is a sign of the quality for years. It has counterbalanced players, special foosball player's design made by Tornado, leg levelers, and amazing stability. Read all about Tornado foosball tables.
6. Dynamo Gold Medal Foosball Table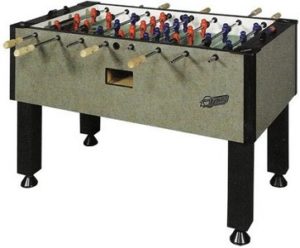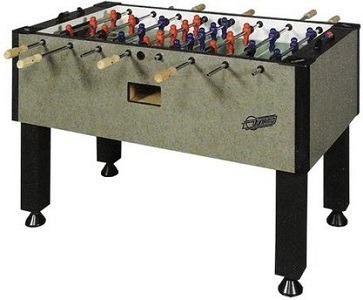 Just like Tornado, Dynamo is a brand I simply must mention on any list of foosball tables. This table is one of their best pieces and it really deserves a gold medal. Almost every table made by Dynamo has ABS high impact players which mean that they are practically unbreakable. What else? Wooden handles, leg levelers, extremely durable cabinet… You name it, this table has it.
7. EastPoint Wicker Foosball Table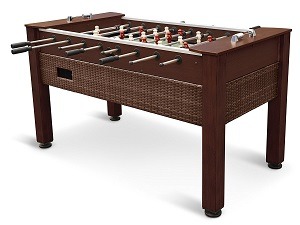 Another EastPoint table is on this list and this is slightly different from the first one. I have put this table on the list because it is an outdoor foosball table, made from wood. The table will immediately catch your eye because it has hand-woven detail around. The table has steel rods, counterbalanced players and what is important; it has a cover so you can protect it when you aren't using it.
8. Garlando G500 Indoor and Outdoor Foosball Table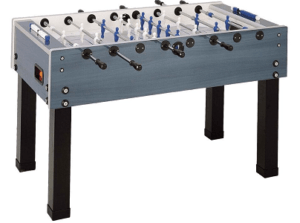 Garlando is one of the most famous European foosball companies and their tables are pretty good. This table is suitable for inside and outside so you can put them during summer out and during winter in. The table is extremely durable and it can withstand almost everything. Surfaces are coated with weatherproof materials and if you want to be 100% sure, the table comes with a cover. Check all Garalno foosball tables.
9. Harvard Midfielder Foosball Table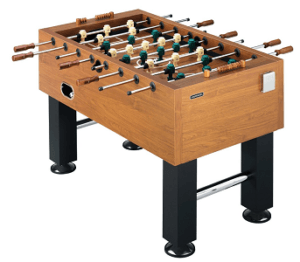 Harvard is a company for hobby players so I wouldn't recommend this table to a professional, but that doesn't mean it is not good. The table is extremely durable and you will enjoy playing on it I am sure. The table has rubber handles and solid steel rods for controlling the players
10. Sportcraft AMF Varsity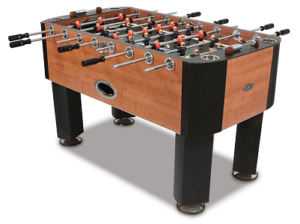 This is one of the most famous Sportcraft foosball tables and it is almost as good as the real tournament foosball tables. It has solid legs with leg levelers so good luck in moving this bad boy. The rods are solid and made from steel so it is better for people who love to show their skill more than scoring as many goals as they can. Counterbalanced players can help you a lot if you want to improve your game and that is why they are here.
FOOSBALL TABLE INFOGRAPHIC