Foosball players are one of the most important and the most used part of a foosball table so it is a good idea to invest in good foosball replacement players for the table. Players can break no matter how durable they are and when they do, it is extremely annoying to play with a broken player. A good thing is that you can get only 1-2 foosball table replacement players to replace those players which are broken. Unfortunately, there is a chance you will have different players on the table and that can look bad. To avoid that, try to get similar players or just replace both teams in the same day. I have to warn you that it could be tricky because you will have to replace 26 (or 22) players which is time consuming and not cheap.
Do I have to get foosball replacement players?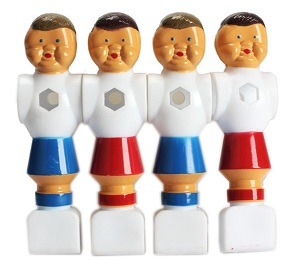 The answer to that question depends on a foosball table you have. If you have an average foosball table with players which don't look so durable, I would suggest the foosball player's replacement. Also, if the players have round feet you can also replace then because round feet will cause the ball to go in different direction. So, as you can see, you don't have to replace the players only when they break. You can replace them to improve the experience. Today, there are many foosball players which have rectangular feet because it is easier to hit the ball with the straight surface and send it where you want it to go. The best replacement players (players overall, not just replacement) are the robotic style players, introduced by Tornado. Those players have rectangular foot which is slightly tilted. That foot is specially designed to help you perform tricks and to control the ball.
Which foosball replacement players are good?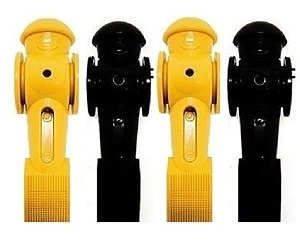 There are many types of players on the foosball market and how can you know which one is really good? Simple, you go with the well known brands. That way you can't go wrong because famous brands are famous for their great quality. Their foosball replacement players are as good as the original. Also, most brands today use ABS plastic which makes them practically indestructible.
Even though Tornado foosball men are the best, they may come with a high price tag. If you can't afford Tornado foosball men, don't worry, there are many similar players with half the price. I must admit, most of the time when people buy Tornado foosball tables and parts, they are paying for the name as well. If you don't mind if the players aren't Tornado, you will find awesome players on the market. I know I don't mind. I would rather pay for quality than for quality and the name. It is cheaper. 😉
When you have bought the table you had to assemble it which is a great thing because you know how the entire story around foosball player's replacement works. If you aren't sure how to do it, find the manual and look for clues in there because every foosball table has something different and the easiest was to replace them is by looking in the original manual.