Two the most popular table games in the world are foosball and pool. The only problem with those game tables is the fact that they can take a lot of space. Due to that designing a foosball pool table seems like a great idea. A pool foosball table is actually one table with two games on it – foosball and pool. That way you can have two games even if you have room only for one and that is pretty amazing. Their design is actually pretty simple because they are made like bunk beds. You take one game, for example foosball, and put it on the top of the pool table. That way you can have completely different game table in short time which is pretty impressive. Most combined game tables on the market are made for kids, because the standard pool table and the foosball table aren't the same size so you can't completely combine then in one table. Not every foosball pool table is made with the same quality and you have to do your homework before buying one so you can be sure that you are buying the right product. Also, a pool table and foosball table in one is a good solution for kids who love to play both games with their friends. So, if you want to buy your kid 2 or more game tables, but you don't have room for both of them, this is your solution.
FOOSBALL POOL TABLE REVIEWS
Hathaway Matrix 54" 7-in-1 Foosball Multi-Game table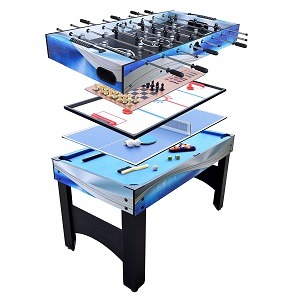 This multi-game table has 7 games in it, which is pretty impressive. It is not just a foosball – pool table. I am not sure if the 7-in-1 is actually a good idea because there is a big chance that one or two games won't work. 7 is a huge number and having 7 games in one table seems pretty impossible. People in Hathaway have thought about it too and you can see on the list of the games that they have kept that fact in mind. Games included in this table are: chess, checkers, backgammon (simple games) and pool, glide hockey, table tennis and foosball. As you can see, 3 simple games and 4 not so simple games are the reason how this table can have so many games on it. Chess, checkers and backgammon are on the same board and other games have their own tabletop. I think that this is a very good table when you look at the price, the number of games and the overall quality of the entire multi-table game.
Giantex 4-in- 1 Foosball Multi-Game Table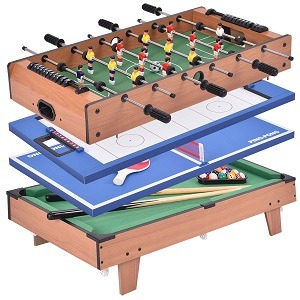 This multi-game table is actually a tabletop. It is a table tennis, air hockey and pool and foosball table. The pool table is the biggest and it is a base. Every other game goes on the pool table. It is a tabletop version of a multi-game table which makes it perfect for small rooms. It saves the space twice – as a tabletop and as a multi-game table. I would recommend it to everyone who has kids and looks for a feature to keep them occupies. Since it has 4 games instead of one, there is no chance your kid will be bored.
PROS
4-in-1
Made for kids
Tabletop
You can remove the legs
Giantex 3-in-1 Foosball Multi-Game Table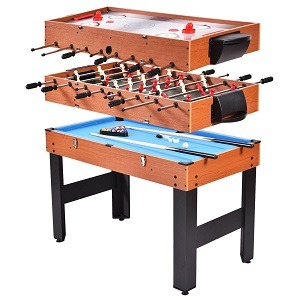 The reason why I am mentioning the Gaintex brand in another short foosball pool table review is the fact that they did another game table, but this one is a real table. It has some differences, for example it has air hockey, foosball and poll but it doesn't have table tennis. I like the fact that it has a panel between the legs for extra stability. The best game on this table is actually pool and the worst is the air hockey. The base is the pool (which is one of the reasons why it is the best, because it acts as a base which makes it very stable. The foosball table is ok, nothing special (good or bad way) but you can notice from far away that it is only made for kids. If the adults are playing on the table they would be frustrated.
PROS
Extra panel for stability
Made for kids
3-in-1
Every multi foosball pool table is a good table for kids. When you combine many games in one table you have to be aware that they can't be made in great quality because every game needs something else to be perfect. For example, the table tennis needs size and the foosball and the pool need stability. If you are looking for a great quality foosball table, I suggest Garladno or Warrior brands which make great quality foosball tables.