Folding foosball table is a perfect combination of standard sized foosball tables and tabletops. I am sure that you have a huge question mark over your head right now and let me clear this fact for you. A tabletop is a great foosball table for small apartments and rooms because it is small and you can store it when you don't need it. The biggest disadvantage of tabletop is its size because it is half the size of the regular foosball table. A folding football table has everything a tabletop has, even more. It is a table which is as big as the regular foosball table and you can fold it and store when you aren't using it. It has best features of both worlds. But, not every folding soccer table is good and to help you choose the best for you, I have pepared top 5 folding foosball tables you can choose from:
FOLDING FOOSBALL TABLE REVIEWS
René Pierre Winjoy Folding Foosball Table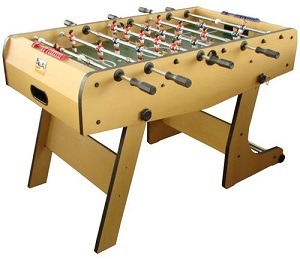 Rene Pierre is a famous French foosball brand which makes tables in one specific style. But, like every rule has exceptions, the Rene Pierre foosball tables have few models that stand out from their portfolio. This folding football table is one of them but this special design has a great reason for that. Special legs on one end of the table are the reason why we can call this table the foldable table, because they can hold the entire foosball cabinet in the air, against the wall, without tripping over. The design is great, but Rene Pierre has better quality foosball tables. It is an average quality table which makes it suitable for families with kids. One additional advantage – telescopic rods will keep your kid's heads safe.
PROS
Foldable legs
Telescopic rods
Quality materials
Kick Foldable Foosball Table – Monarch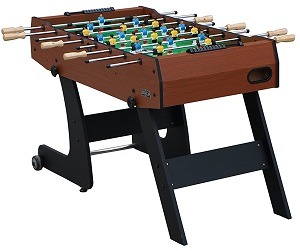 Kick is a really good foosball brand and I would recommend this KICK folding football table to everyone. The price is really good and the quality is even better. Foldable foosball table made by Kick has everything one good foosball table should have. The players are counterbalanced and they come in both 1-man and 3-man goalie system. Player control is easy with chrome plated solid steel rods and wooden handles. The only thing I don't like is the fact that it has the end ball return. If you want to fold the table when you aren't using it, all you have to do is unscrew the legs and set the playing surface up. That way you can easily put the table against the wall and that way it will take small space.
PROS
Counterbalanced players
1-man & 3-man goalie
Good quality
Playcraft Sport Foosball Table with Folding Leg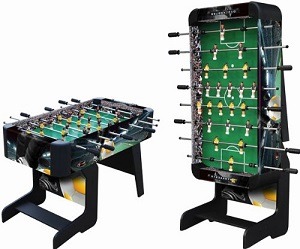 The same folding principle as the Kick folding football table is with the Playcraft Sport. When you aren't using it, just put the playing field up against the wall. The cabinet is made from MDF so it is durable and stable for the price. The quality and the design make the table more kid-friendly; even though I am sure it will satisfy hobby players as well. The handles are ergonomic and made from plastic, but they aren't smooth so your hand won't slip that easily. The steel rods are good for controlling the players in 1-man goalie system. One and main disadvantage people are complaining about is the complicated assembly which is not surprising when thinking about the part where you can put it against the wall.
PROS
Foldable legs
MDF
Ergonomic handles
Steel rods
CONS
Plastic handles
Complicated assembly
Could be better quality
Hathaway Gladiator Folding Foosball Table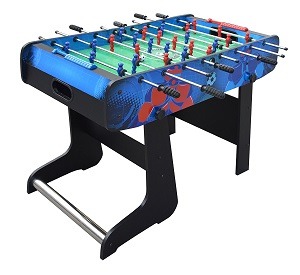 Almost every Hathaway foosball table is made from Certified MDF and this one is not an exception. The Certified MDF is much stronger than common particle boards or plastic which makes this table very durable. The players are placed in a 3-man goalie configuration which makes the game faster than with the 1-man goalie configuration. The durability of the players is impressive because they are made from ABS plastic. High-quality rods control the players and you can control the rods with rubber handles. This folding foosball table is a good quality piece of game table, but I would love if the table had wheels on the legs for better transportation.
PROS
Foldable legs
Certified MDF
High-quality rods
Rubber handles
CONS
Garlando Open Air Folding Foosball Table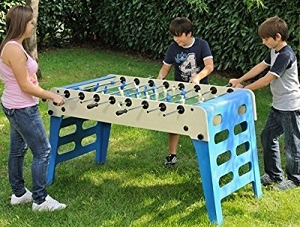 This is not like the rest of the folding foosball tables on list because the folding principle is different. As you can see from the picture, the table looks like any other foosball table, but it can fold. How does it fold? Simple, you just fold both legs inside, below the playing surface. That way, the folded table looks like a tabletop, which makes it very easy to store. Another interesting feature of this table is the fact that it is made for outside. Yes, you can put it on your patio or backyard because the table is made from a combination of plastic and fiberglass. Also, every bolt and screw is treated with tropical anti-rust treatment so you can be sure that it is a weatherproof table. But, to keep it in perfect condition all the time I suggest you put it inside. It is foldable, it won't take much space.
PROS
Foldable legs
Easy to store
Outside table
CONS