ESPN is one of the most famous American networks so having an ESPN foosball table is not that surprising. The ESPN actually means Entertainment and Sports Programming Network and it was founded in 1979. It is a big part of American culture and it covers even bigger part of sports news. Foosball brands have recognized the importance of the ESPN so they invested and made great foosball tables with their name on it. If you are an ESPN fan and you want to have foosball table like that, this list is a great choice for you.
ESPN FOOSBALL TABLE REVIEWS
MD Sports ESPN Foosball Table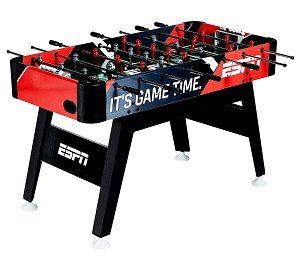 This ESPN foosball table looks pretty good and it will fit in any game room. In the living room, not so much, because it has black, red and white colors on it. The table has two panels between the legs on each end which will improve the overall stability of the table during the game. The table also has leg levelers for straight playing surface in any situation, but I don't like the fact that it is light. It has 65 lbs, which is too light for a table this big, so I would recommend it for kids or beginners. The players have a robotic design, which is a plus and they are controlled with Chrome finish steel rods and plastic handles. Another downside is the end ball return because the side ball return is a better option.
PROS
Good design
Leg levelers
Panels for stability
CONS
Plastic handles
End ball return
Quality
Sportcraft ESPN Foosball Table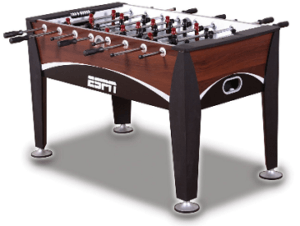 The Sportcraft ESPN foosball table is a better choice when it comes to the quality foosball tables, but it is not as attractive as the MD Sports ESPN table. The Sportcraft table has leg levelers for 100% straight surface which is important. The playing surface is made from MDF and the graphics on the table are screen printed, not stickers which is a plus. Robotic style foosball players are controlled with the hollow steel rods, which are a good thing, but the players aren't made from the best plastic. Just like the foosball table above, this one also has end ball return and I am not a fan of that. The table is OK for a beginner or a hobby player, but the price is a little too high for the value. That happens when you want to buy a name and not the quality.
If you are an advanced foosball table who loves ESPN and wants to have an ESPN foosball table, I suggest waiting for a season or two for a great quality table. If you aren't that experienced and you play foosball once in a while then this can be a good choice for you, only if you buy an ESPN foosball table for sale because their price is too high for the value.
PROS
Leg levelers
Screen printed graphics on the field
Hollow steel rods