I know that it is extremely hard to decide which Dynamo foosball table you can choose, so do not worry. Today I will help you by presenting you all Dynamo tables, however, let us first take a close look at a history of the brand.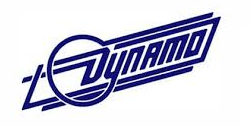 The Dynamo is actually owned by the Valley-Dynamo Ltd Partnership. They created the Valley-Dynamo table Brand. The Company is in exists since the early 1970s, by the former professional player, Mr. John Lewis. His love for this game propelled him in creating the professional and high-end tables that can absorb heavy plays  – the competitive Dynamo foosball table.  The Companies base is located in Texas.
No matter whether you are new to the popular table game or an enthusiast who wants to add this to your favorite past times at your home room, one thing is for sure – buying the foosball table is the great investment. The game is played by 2 to 4 players and it is the intense, and fun, time with your friends and family.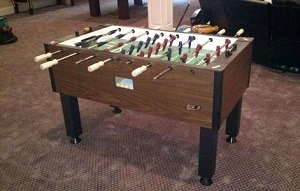 In order, to help you to make the decision, I would like to give you tips before you go shopping and you will end up with the best table for your money. Suppose you are new to being the fooser, then there is a good chance you have either seen these tables and watched people play. The object of this games is scoring most of the goals against the opponent that you will do by maneuvering small ball across table's surface with help of the little men attached to playing rods. Any kind of the game table is been considered as the investment.
The space plays very important role in choosing the game table and don't think about buying the large one in case your space will not accommodate the full-sized table. Now, I will review all Dynamo foosball tables that are accessible in on the market and you can order them online as well.
We will focus on the reviews and all you will see that the tables are totally high-end products which are considered as best in the market. Suppose you would like to know a little more about foosball tables you can visit our foosball table guide to get more information on the subject.
DYNAMO FOOSBALL TABLE REVIEWS
Dynamo Big D Foosball Table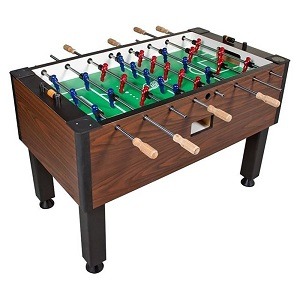 Dynamo Big D table has sturdy gunstock wooden cabinet that is 1 ½ inch thick and 3/4 inch thick laminate table field. The high-end table actually is one of the best tables in Dynamo Brand. This is made with the parts that are essential for the heavy duty play. It has wooden handles are the octagonal shape for the comfortable and the confident grip and it is heavy – weights 205 pounds. Thus this foosball table is one of the best Dynamo tables to play the tournament with the family and the friends. There are two teams on the table, the red ones and the blue ones which will provide you exciting gameplay only a Dynamo foosball table can provide.
PROS
Adjustable leg levelers
 1 ½ inch thick wooden cabinet
3/4 inch thick laminate field
Wooden handles for better grip
Weighs 205 pounds
Dynamo blue and red men
Dynamo Blaster Foosball Table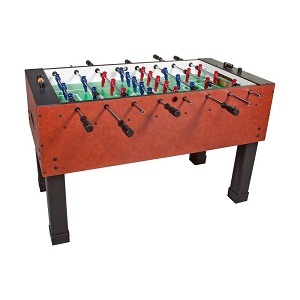 If you are purchasing Dynamo foosball table you're expected to pay a lot of money. But, that is not in vain. This table has 1-inch thick Moroccan Fresco Cabinet which will provide you great quality. Durability is the biggest advantage you have to know about this table while choosing if it is a good table for you. The tables made from stainless steel and thick wood can cost you little more money however these are durable types. This particular foosball table is actually of the less high quality when compared to Dynamo Big D Table. Manufacturers' pros and cons are given: The good foosball table to play with your friends as well as family; though not the tournament quality table, and any person who purchases the table won't get disappointed.
PROS
1-inch thick Moroccan Fresco Cabinet
Black Plastic Handles
Height Adjustable Legs
Blue and Red Playing Men
Weight over 205 pounds
Leg Levelers
CONS
Assembling
End ball return
Dynamo Gold Medal Foosball Table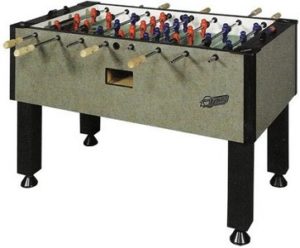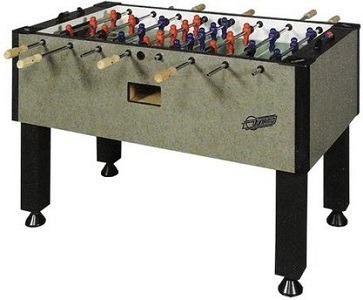 The Gold Medal l is been recommended by the professional Dynamo foosball table players so every piece is really good quality. But, Gold Medal is the best foosball table Dynamo has ever made. It has everything and I am not sure what are the downsides in this table. So, let's start from the design. The design is simple, yet attractive. It is made from 1-1/2″ thick which looks like marble. You won't have to worry about uneven floors because this foosball table has leg levelers. It is a small thing but I find it very important. Players on the field are counterbalanced and made from ABS high impact so they would be practically indestructible. Handles are made from wood for better grip.
PROS
1-1/2 inch thick walls
Leg Levelers
Counterbalanced men
Side ball return
Dynamo Silver Medal Foosball Table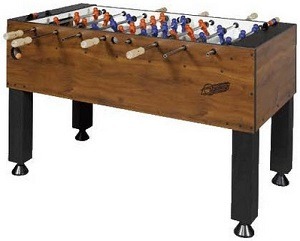 Just like the name says this Dynamo foosball table is not so good as the Gold Medal foosball table. It is still pretty good quality foosball table, but it is not the best on the market. The table is durable and stable as you can see it from the construction. Counterbalanced players are made of ABS high impact plastic and they won't break that easily. The wooden handles and solid steel rods are providing you great control of the game and you will have plenty opportunities to score. If you have a slightly uneven floor at home, don't worry because this table comes with adjustable leg levelers.
PROS
ABS high impact plastic players
Leg Levelers
Counterbalanced players
Side ball return
Wooden handles
Dynamo Bronze Medal Foosball Table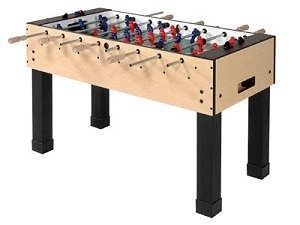 The Dynamo foosball table with the lowest quality is the Bronze Medal table. Besides the lower quality cabinet, it doesn't have features which other foosball tables made by Dynamo have. The cabinet is light so you can move it if you play too aggressive. When it comes to features, this foosball table has the end ball return, which I really don't like. Another thing, it has leg levelers, but they are not so adjustable as some may think. Well, it is not all that bad. It has counterbalanced men and wooden handles on the rods, which are solid, not hollow.  For better gameplay, it would be better to have hollow rods.
PROS
Wooden handles
ABS high impact plastic players
Counterbalanced players
CONS
End ball return
Complicated leg levelers
Solid steel rods