Coolest foosball tables you can't find in sports stores or in a local bar, those are tables you have to order because they are pretty unique. Some of them are so cool you will have to have them at home! We will talk about Barbie tables, golden tables, transparent tables, big ones, small ones and what is the most important the cool foosball tables.
Barbie Foosball Table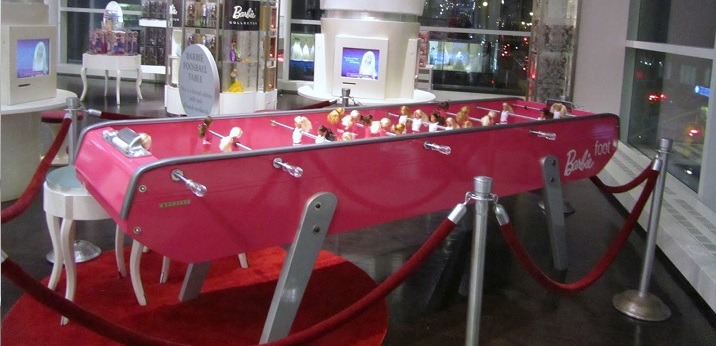 Yes, I am talking about real Barbie dolls on a foosball field. It is a true girly foosball table so if you want to show your prettier half that foosball is an awesome game, show her this table. It is made by the French designer Chloe Ruchon and it was presented in 2009 on a DMY Design Festival in Berlin, Germany. Conveniently it is called the Barbiefoot. A French name for the foosball is baby-foot so you can see where the inspiration for the name came from.
Good vs. Evil Foosball Table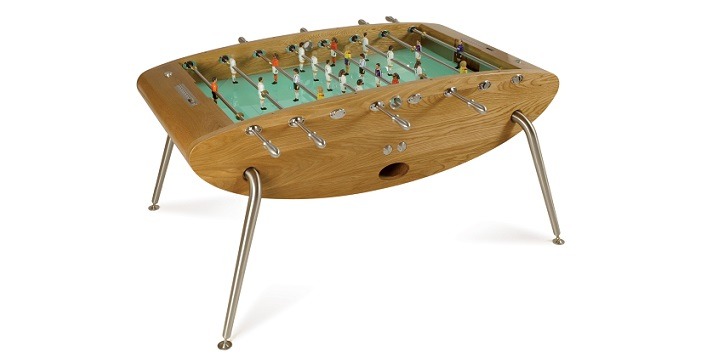 Now, this is, in my opinion, one of the coolest foosball tables and there are only 20 of them in the world. The table illustrated the constant battle between good and evil in most interesting way – the foosball match. The white team is the Good team and the red team is the Evil team. To make this even more interesting, every team player is a person or a character from our history and fiction which represents good/evil. On the good side we have players like Santa Claus, Flash Gordon, God, M. K. Gandhi and Sir Thomas Moore and on the evil side are Adolf Hitler, Vlad the Impaler, Lucifer, Jack the Ripper and Caligula.
Lego Star Wars Foosball Table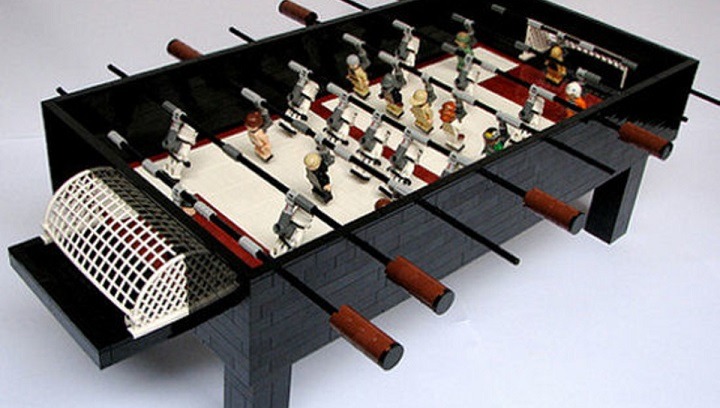 This table combines the most popular toys from childhoods all over the world, Lego, and the Star Wars and that makes it a pretty cool table if you ask me. The best thing about this table is the fact that it is completely made from Lego, everything from the goals to the players and rods. Even the handles on the rods are made from Lego. Well, the only thing that is not made from Lego is the ball and I think that it should stay that way. J
The Most Expensive Foosball Table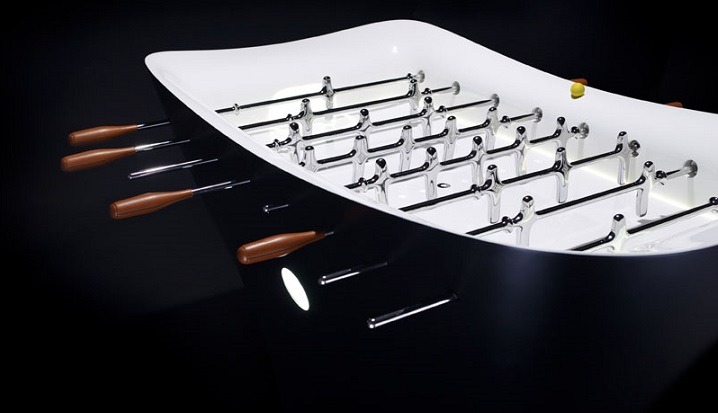 The most expensive foosball table has the price of the impressive $68,000 and let me just say, it looks like that. It has slick white- silver design that will leave you breathless. The most expensive foosball table is called "11- The beautiful game" and besides amazing design, it has special lighting effects. Every player is handcrafted and dipped in chrome finish for extra shine.
The Longest Foosball Table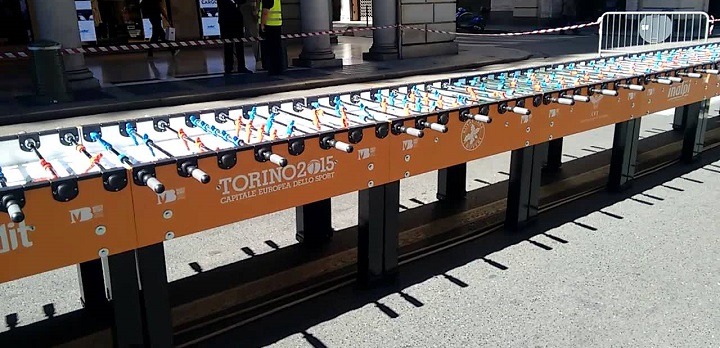 One of the coolest foosball tables is also one of the longest. It is officially recognized as the longest foosball table in the world by the Guinness World Records! This extremely cool table is 124 meters long and 424 players can play on the table. The table was made in September 2015 and the main goal for the event was to raise money for the MAS CTH children hospital in Somalia.
Foosball Coffee Table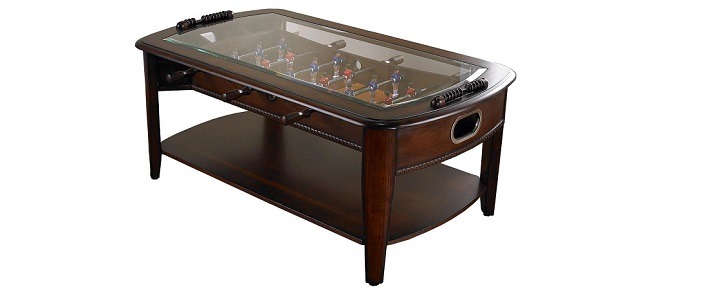 Having a foosball coffee table is a double pleasure. It is a table, which looks amazing and it can fit in any room, but it is also a foosball table. The best example of this coffee foosball table is the Chicago Gaming foosball table. It looks stylish, elegant and it provides the great characteristic of a real foosball table. Who wouldn't want to have this table in his living room?
Hybrid Real and Second Life Virtual Foosball Table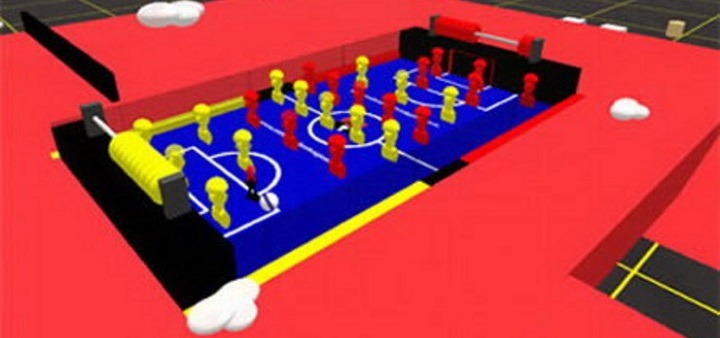 Just like a foosball coffee table, this table is actually a combination of two things – reality and virtual world. Designed by the Social Media Group (MIT Media Lab) they named the table Stiff People's League. You are using the table to control the virtual players. Sounds confusing right?
2eleven Foosball Table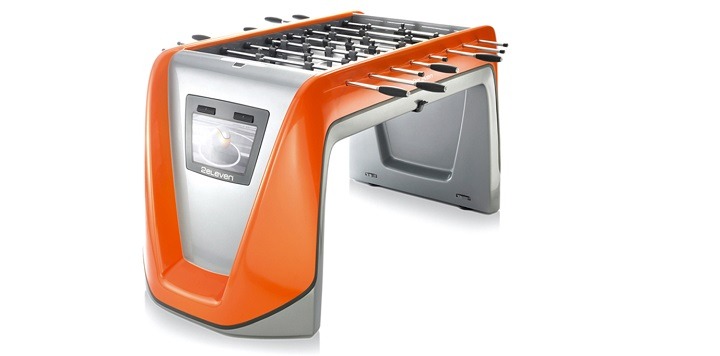 One of the most interesting foosball tables is this orange – grey futuristic table. It looks different from the rest of the tables and it has some pretty impressive features. First one is definitely LCD scoring system for flawless keeping score. Besides that, this interesting table has cup holders and automatic carbon ball lift.
The Foosball Table of Kings – Lux Gold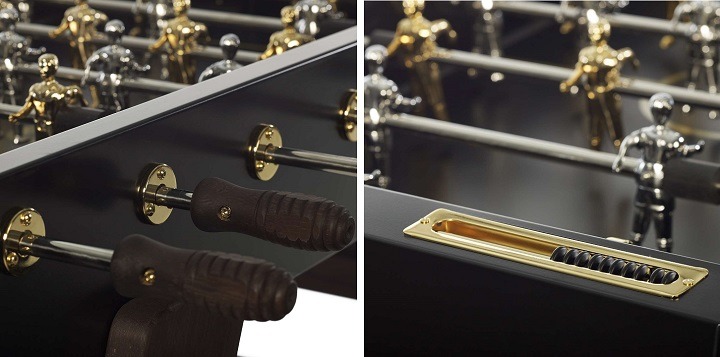 If you like luxury things then you will love this foosball table. The original combination of colors for this table is pitch black and gold, which gives him a dose of elegance. If you aren't a fan of those two colors, you can choose a combination from more than 50 different colors. I am sure you can find what you will like. Oh, I almost forgot. The price of this table is around $28,000 which makes it a true luxury object.
Tota Treme Terra

If you don't like music while playing foosball, I suggest you skip this table. J Tota Treme Terra is a Chelpa Ferro's foosball table and one word which describes it best is Sound. The entire foosball table is made with speakers different sizes and types.  The speakers are connected to the field and they will work as much as they can to describe you the atmosphere on the field.
Human Foosball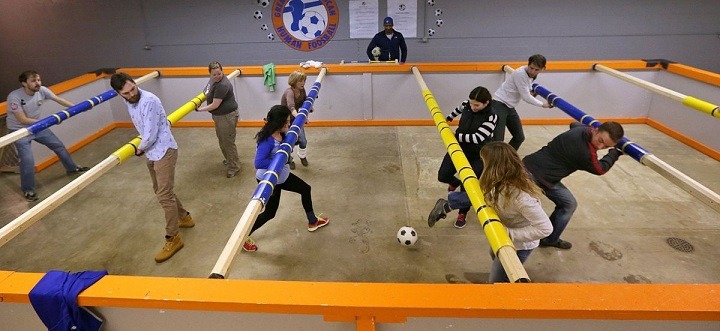 You know you can play foosball table for hours, but did you know that you can play on the foosball field? Yes, there is a human foosball table where humans are tied to the plastic rods of the table. If you enjoyed the foosball table I am absolutely sure you will enjoy the human foosball as well! Don't worry it is completely safe. J
VW Foosball Arcade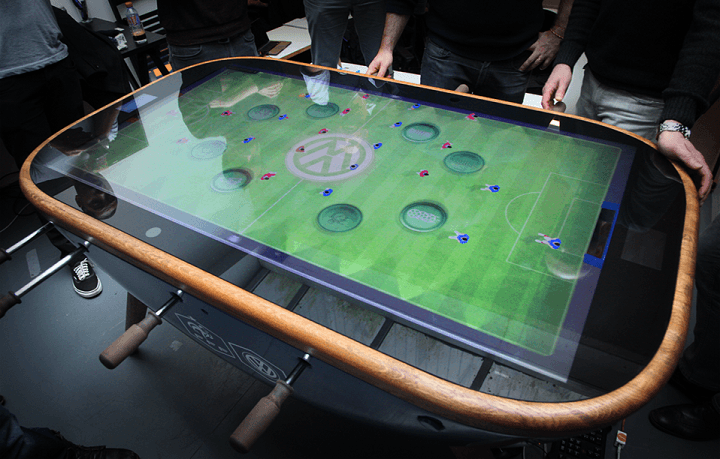 Another table which combines virtual world with the real world is this one, but, this one has made one step further. It is a digital foosball table with social connection because it is made to play online. Now you don't have to be near your friends to play foosball, all you have to have is this interesting foosball table.
Cardboard Foosball Table

Tables are made from so many materials that people have stopped counting, but this one definitely stands out. A 100% green table is made from cardboard which makes it easy to assemble and disassemble. The only two materials used in this table are cardboard and wood. Can you show me more eco-friendly foosball table?
Foldable Foosball Table – CRATES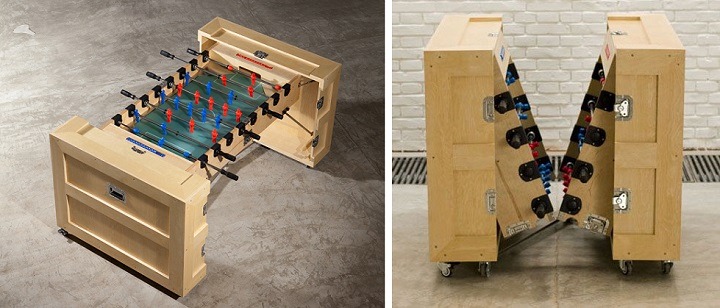 This table is the most foldable foosball table you will ever see. The designer Naihan Li, made this table as a part of his collection of pop-up furniture called CRATES. Unfolded, the table looks like a cabinet and you would never have guessed it is a foosball table. Perfect for small rooms.
Coca-Cola 3-sided Foosball Table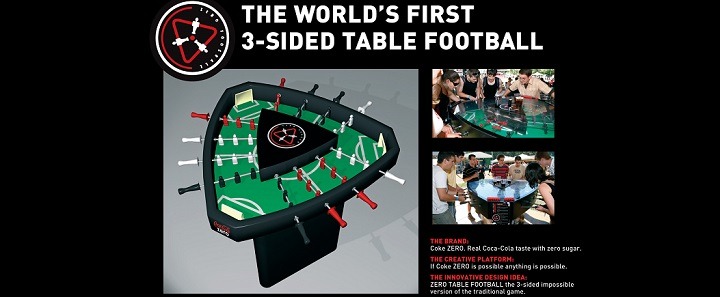 It is well-known that foosball tables are made for 2-4 players, but Coca-Cola did something completely different. As a part of their advertising campaign for the Coke Zero, they made a 3-sided foosball table which is made for 3-6 players. Looks chaotic, but I would love to try it!
Glass Foosball Table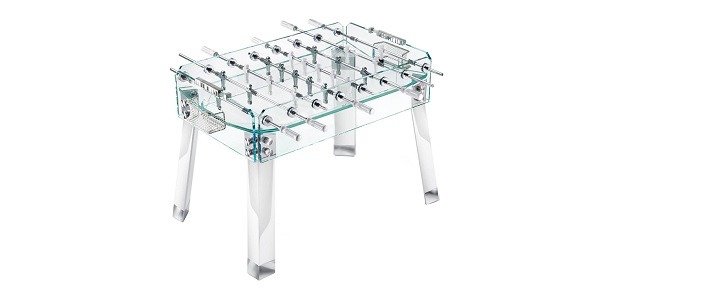 Can you imagine playing foosball on a table made from glass? Sounds impossible, but people from Teckell made it happen! Teckell Krystall Series are foosball tables made from crystal glass and crystal playing surface and they are 100% transparent. Don't worry, the glass is extremely durable so it won't break that easily. Teckell made 8 different models and you can buy them for $8,000-$10,000.
Concrete Foosball Table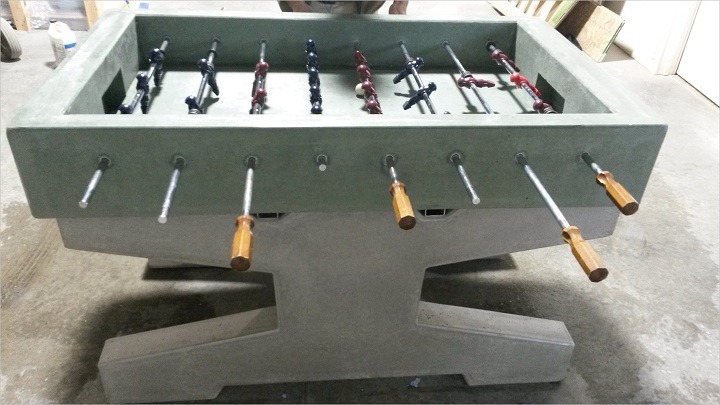 Now, this table seems like the most durable table on the planet. Do you know how can you break concrete? Well, you can't with foosball ball. People behind this concrete foosball table are Bravado Outdoor Products and they made it so the table can fit in any park and you don't have to worry someone will break it or even steal it.
VHS Foosball Table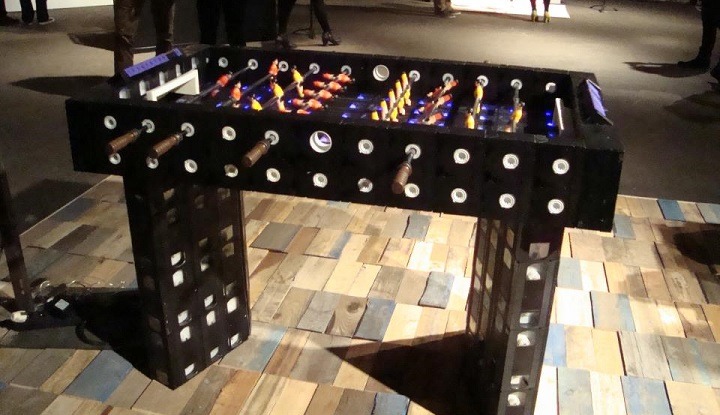 This table is perfect for all you who know what a VHS is. J Unfortunately, the VHS table is only a part of an Exhibition in Brussels so you can't get one, but I am absolutely sure you can make one yourself. All you have to have are a bunch of VHS.
The Only Gumball Foosball Table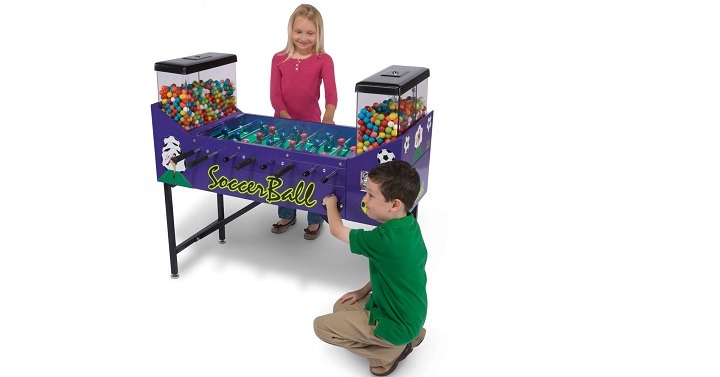 This is possibly the best foosball table, chosen by kids. What makes it so cool? Well, the fact that the foosball ball is actually a gum. On each side of the table is a gum dispenser and every time one team scores, they get a gum as a reward. You can only get the gum if you score, which is a great idea.