The coin operated foosball table is a foosball table you have to pay to play. It is not a tournament model or a type of foosball table you would have at home because those aren't places to pay for the game. The coin-op foosball table is a table you can find in game rooms, bars, restaurants and other places where you come with a purpose to play some game table. A coin-operated table football is made from very good quality because a lot of people can play on it during the day (especially if the bar is filled with customers) and you mustn't allow for the table to break every few days. So, to avoid reparation every few days, I want to share with you high-quality coin-operated foosball tables you can find on the market.
COIN OPERATED FOOSBALL TABLE REVIEWS
Tornado Platinum Tour Edition Foosball Table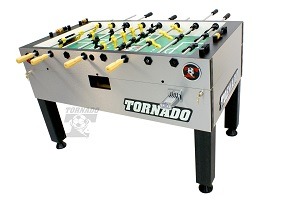 This Tornado is actually a coin-op version of the best Tornado foosball table. As you can imagine, it is a very impressive coin operated foosball table. The cabinet is made from stainless steel with end protectors so you can see that they were serious when they designed this table. You can choose the 1-man and 3-man goalie which is great because you can adjust the layout to your customers. 5-Coin push chute mechanism can offer you 3 options, free play, $0.75 and $1,25 as it accepts tokens or coins so it is entirely up to you to decide the price of the match. Counterbalanced Tornado men will provide the best gaming experience. Leg levelers will make sure that the surface stay 100% straight all the time. This table is another great product made by Tornado.
PROS
Stainless steel cabinet
3 options in the coin mechanism
You can use tokens and coins
Leg levelers
Great quality
Garlando World Champion coin-op foosball table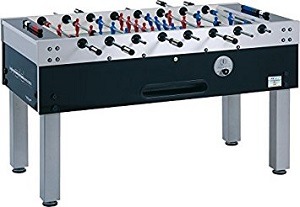 Garlando is another well-known brand which has the ITSF approved foosball table. This coin operated foosball table is a great feature for every bar or game room. The entire cabinet is made from 1 ¼ inch combination of plywood and MDF which makes it extremely sturdy. The playfield is made from tempered glass which provides an extra smooth surface for the fast game which is a must if you want intense match every time. Rods on the table are coated with anti-rust plating which is responsible for 50% more torsion resistance than other rods on the market. High-quality rods and counterbalanced players are only a tip of the iceberg of this great table. This is the coin-op foosball table I would recommend to everyone.
PROS
1 ¼ inch thick cabinet
Tempered glass field
Anti-rusting coated rods
Counterbalanced players
Great American Action Coin Operated Foosball Table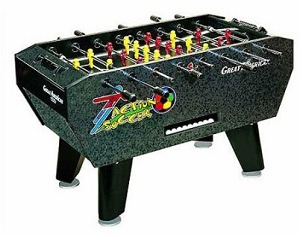 The Great American has 1-inch thick cabinet made from laminate with MDF core. The players on the table are made from polypropylene and are counterbalanced (which is a must these days). Solid steel rods control the players and you control the rods with ergonomic handles. The coin system can be converted to foreign currencies which is a great thing. The ultimate gaming experience is provided with extra smooth playing surface and adjustable leg levelers on each leg. This is a great quality foosball table which will entertain your customers for hours.
PROS
1-inch thick cabinet
Ergonomic handles
Counterbalanced players
Leg levelers