When your budget is tight but you want to get a foosball table, the only option is to buy a cheap foosball table. Buying a cheap football table can be tricky because you have to choose a table which has low price and good quality. I know that most of the time those two things don't come together, but there are foosball tables which are cheap and good quality. Foosball tables which are considered cheap are a great starter foosball tables and great Christmas or birthday presents for kids (and adults) who haven't played foosball before. That way they can see if the game suits them or they are more an ice hockey type of people. That way, if they don't like the game they can give the table to someone who needs it. If they do like it, they can play on the cheap foosball table until that one breaks and then they can invest in a better quality foosball table.
Sport Squad FX40 Foosball Table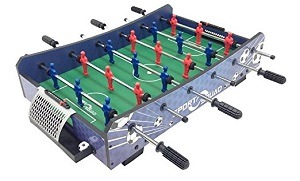 Sport Squad is actually not a foosball table, but a tabletop and I find it a good example of a cheap football table. Tabletops are a great investment because they fit in small spaces and they are a good present for beginners. This tabletop has steel rods and rubber handles which is great because rubber isn't as slippery as the plastic. The 3-man goalie return is a great way to play fast-paced match which will make you love foosball. Moat tabletops are smaller than the regular table so it can't provide you proper experience, but for that price, it is pretty neat.
PROS
Made for kids
Rubber handles
Steel rods
CONS
Not on the market anymore
Could be better quality
Giantex Foosball Table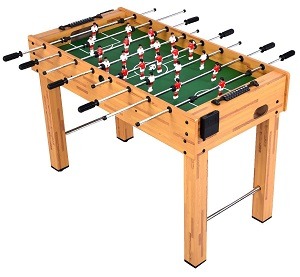 This cheap foosball table is the similar price as the tabletop above. The table is made from MDF with PVC cover which gives is that plastic shine I am not a fan of. Hollow steel rods control traditionally designed players with rectangular foot (which is good). Even though the table has two bars between the legs for better stability, the table is not too stable and the entire table is light. That (and the size) leads to the conclusion that the table is made for kids because they aren't as strong as adults so I think they won't be able to move the table during the match. The playing surface is thin, but kids can still play for hours on it, having fun. For a cheap football table, it is a good product.
PROS
Bars between legs for stability
Cup holders
Counterbalanced players
Made for kids
CONS
Very light
Not so stable
Could be better quality
EastPoint Sports Foosball Table with LED Scoring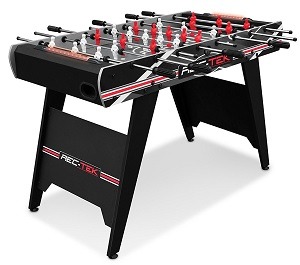 EastPoint is a good foosball brand with low prices of foosball tables which are OK quality. This table is more durable than the rest of the list, for a low price. As you can see in the design, the table looks like it is inviting you to play foosball, which I actually like. The table has two big panels between the legs for better stability and they really do the trick, but for beginners or hobby players. I like the fact that the scoring system is made with LED lights, it gives the table special touch, but it reminds me more of a hockey field than the football field. Steel rods allow you to control the players easily and that is good, but the players are very light, which is not that good. The table is not a regular sized table, it is a slightly smaller model, but I think it is a good deal for the money.
PROS
Panels between legs
LED scoring system
Steel rods
CONS
For beginners
Players too light