Any game table can be a tabletop because it is a term used for a game table without legs, but today I want to focus on tabletop foosball tables. A foosball tabletop is a smaller version of foosball table which is a great solution for kids and small rooms. Like I have already mentioned, a tabletop is a game table without legs which means that you can put it on the table, on the bed, on the floor, wherever you want and that is why it is a great solution for small rooms. A tabletop is a smaller version of foosball and most tabletops are only half the size of the regular foosball table or smaller. That is why they are a good solution for kids. Before you go get a tabletop football, read reviews so you can determine which is better for you and your family.
TABLETOP FOOSBALL TABLE REVIEWS
T&S Tabletop Foosball Table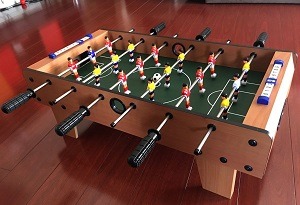 This tabletop is a good product because it is one of the bigger tabletops on the market. It is a combination of tabletop foosball and foosball table because it actually has small legs. I would actually leave the legs off the table because I have a feeling that it is more stable as a tabletop than the table. The cabinet is made from wood which makes it look better and more durable than the MDF tabletops. The table has 3 rods on each side, which is smaller than the real foosball table which makes it better for kids. I wouldn't recommend it for kids under the age of 7 because they have to control 3 rods at once, I am not sure that 4 kids can play this table. The handles are plastic and the main downside is the fact that they come off too easily from the rods. Overall, it is pretty decent tabletop foosball table for the price.
PROS
Bigger in size than others
Made from wood
You can remove the legs
Good for kids
CONS
Stability is poor with legs
Plastic Handles
Quality
Westminster Tabletop Foosball Table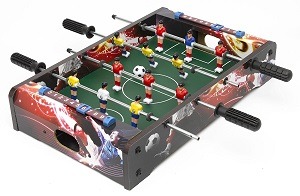 This is a small sized foosball table, even for the tabletop and that makes it the ideal portable foosball table. The design is good because it suits kids, but the quality is not that good. The entire table is made from average quality materials and it is not very durable. It has 2 aluminum rods on each side of the table which is great for kids. I would recommend this tabletop foosball table as a present for a kid who hasn't play foosball yet. That way you can see if the foosball tabletop is a huge hit or not. If it is, then buy a better quality table, but if it is not, it is OK, because the price of the tabletop is low.
PROS
Great starter game for kids
Low price
Designed for kids
Mainstreet Classics 36-Inch Tabletop Foosball Table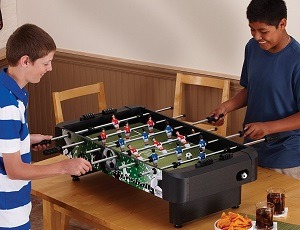 Mainstreet Classics are actually made by the GLD Products, which is known in the foosball world. The entire tabletop is made from combination of plastic and MDF and it is pretty durable tabletop. This tabletop foosball table is made for kids who have 12 years or more, so it is not suitable for small children. The players are made from plastic and divided into blue and red teams. The tabletop has 3 rods on each side and it comes with the legs which have leg levelers, but I think that the game can function good without the legs. I personally think that tabletops shouldn't have short legs, it is just not practical. The tabletop has end ball return on each end and scoring system above each goal. The table has graphics on the cabinet which makes it ideal Christmas present for your kids.
PROS
Durable
Leg levelers
You can remove the legs
End ball return
CONS
Plastic handles
Not suitable for kids under 12
Triumph Sports Tabletop Foosball Table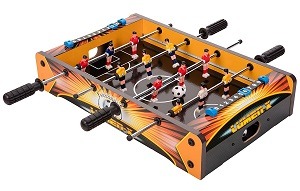 This is one of the real tabletops because it doesn't come with the detachable (or permanent) legs. The tabletop foosball table is made from MDF which makes it durable, but it is not too heavy so I would recommend it for the kids. The players have a combination of rounded and rectangular feet which is not the best solution for the ball control. The handles on the steel rods are made from plastic, but they aren't smooth which is good. Smooth handles are very slippery. Tabletop has end ball return on each end, but I don't like the size and the design of a goal. It is a little too small and hollow for the ball and it is a drilled hole in the cabinet, no nets, nothing. I honestly think that the quality and the price ratio could be better.
PROS
MDF
Steel rods
End ball return
CONS
Plastic handles
No goal, just hole
Quality and price ratio is not good
Harvil 38-Inch Tabletop Foosball Table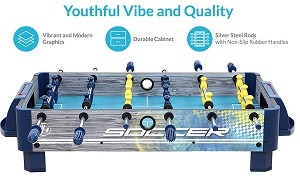 This is a good tabletop foosball table made by Harvil. The durable cabinet is made in combination of silver and blue which makes the table look really good. The playing field is also in light blue with screen printed graphics and not stickers, which is great. The players on the field are in a combination of yellow and blue. They are made in robotic style which is provides better ball control during the game. Steel rods provide good player control and rubber handles will make sure that your hand won't slip. Behind each goal is a ball retrieval which makes the game faster even after the goal. It is a pretty good foosball tabletop which will keep your kids satisfied for hours.
PROS
Good design
Screenprinted graphic on field
Robotic players
Rubber handles
CONS
Not that I can see for a tabletop