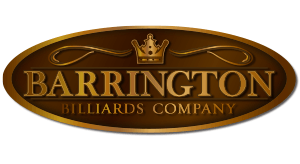 Barrington is a company which produces more billiard tables than foosball tables, but they have few foosball tables up their sleeve. Their main wish is to make game room products which will fit into any room. Their foosball tables, or billiard tables, are made with style and they are more like a furniture than the actual game.
Those two Barrington foosball tables aren't bad but really not that good. The look amazing and their performance is quite OK actually. Not only they have good performance, they look great too. People in Barrington Billiard are proud with their great designs and wooden tables and when you look at the foosball table reviews, you will see why.
BARRINGTON FOOSBALL TABLE REVIEWS
Barrington 56" Solid Wood Veneer Foosball table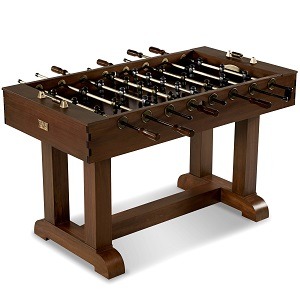 The style of this foosball table is what I would expect from Barrington – sleek and fancy. There are no bright colors on the table, everything is brown, silver and black and I love it. The Barrington foosball table is made from premium solid wood and veneers so you can expect it to be stable and durable. The foosball players have an antique bronze finish which makes them look incredible. They are controlled by the quality steel rods, which have wooden handles on top. The table also has leg levelers, which will provide you excellent gameplay on every floor. The side ball return will offer you a chance to immediately start another match after you score your rival.
PROS
Sleek and fancy design
Made from solid wood and veneer
Steel rods
Leg levelers
Barrington Coffee Table Foosball table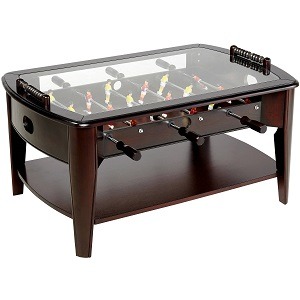 There are few coffee tables turned into foosball tables on the market that looks like this Barrington foosball table and I actually don't mind because the design is flawless. This foosball table is made from solid wood in the dark brown finish. The field is protected with the tempered glass from the above so you won't spill anything on it and that is an awesome idea, after all, it is a coffee table. The players in the table are realistic with square feet design (could be better but I don't mind) and they are controlled by the steel rods and wooden handles. An additional feature this table has and other foosball tables don't is the shelf located beneath the field. It is a great place to put books and other things you usually put on the coffee table. Now, the table is not the best quality for a foosball table but it is pretty good quality for a coffee table.
PROS
Great design
Steel rods
Shelf beneath the field
Tempered glass above the field
Can be used as a coffee table
CONS
Quality not suitable for foosball table