3 in 1 foosball table is a table with more than just a foosball. Those kinds of tables are also known as the multi game tables and there are numerous models on the market. A multi game table is not the best quality foosball table because it is not focused on one table game, but on 3. If you are a hobby player or even an advanced player who is looking for a table with multiple games than I would definitely recommend this table, but if you want to improve your skills or even train for some local tournament (or other), then I would suggest you get a professional foosball table. I think that a 3 in 1 foosball table is a great choice especially if you have kids who love to play different game tables. That way, you don't have to buy every game table on the market; you can buy one with 2 additional table tops.
MD Sports 48″ 3-in-1 Combo Table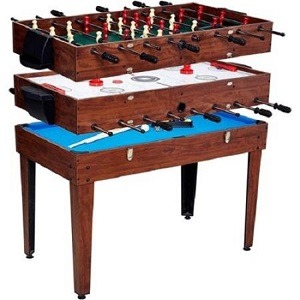 MD Sports table has billiard, glide hockey and foosball table in one. The table is made for kids and it is too small for the adults because it is completely kid friendly. The table is made from MDF and it has a table with one table top. I don't like the fact that it has so slim legs because it doesn't look so stable, but since it is made for kids, it is probably enough. The foosball part of the table has steel rods and robotic style players which is pretty nice. There is a problem on this 3 in 1 foosball table with the straight billiard surface, which his not 100% straight, but I am sure kids will focus more on the foosball and glide hockey games. They are more interesting than the billiard game to any kid. Kids love active and fast game and billiard in not that type of game.
3-In-1 Multi Combo Game Table
This table I will review next is actually one table, presented by different brands. As you can see, the table looks identical but it has Ginatex, Lancaster Gaming Company, Magic Tech logo on it. I am not sure whether it is really the same table or are the tables made with the same design but different materials. When you look at the features, tables share the same features, the same base and the same 3 games so I assume they really are identical.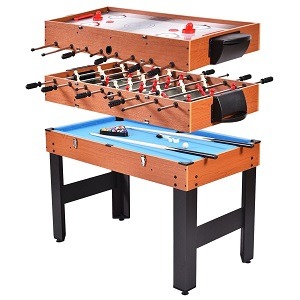 This table has 3 game tables in it; the foosball, billiard and glide hockey. The base game of the table is billiard and glide hockey shares a table top with foosball. So, when you want to play foosball, place it on the billiard, but if you want to play glide hockey, just turn the foosball upside down. The assembly is pretty easy which is good. The overall construction is OK, the table is made from durable MDF and a combination of metal and plastic. Legs are connected with one panel which ensures better stability and leg levelers will provide you straight surface no matter what you are playing. I like the fact that you can fix the second table top (with foosball and glide hockey) on the billiard table with hooks which is important in any 3 in 1 foosball table. This table is made for kids, but I am sure you can have fun on it too just don't expect it to be the best multi table ever.
Overall, when you look the price and the fact that you are getting 3 game tables and that they are all made for kids, I think it is a good option, but for kids below 10 years. Every table in this article can be a great birthday or Christmas present because they all provide hours of fun and that is what is the most important.