I am sure you have all played at least once a table foosball. If I go to the party, I know that the main action will be around foosball table, well because it is the best game for a group of people. You can play football, without actually running, that sounds perfect, right? A foosball table is an essential part of every apartment and what is better than to invest in the best foosball table on the market? One of the most iconic series in the 90s have had a foosball table. That is right, I am talking about "Friends" and Joey's and Chandler's apartment, which had a foosball table. Typical bachelor's apartment, right? 🙂
All jokes aside, a foosball table is a good game made with very specific engineering. It will give you so much fun that people are having tournaments in this interesting game. The best foosball table is an excellent addition to any home because it is a game anyone can play. You can play it against your friends, parents against children, sisters against brothers and you don't have to worry about an injury. I am leading against my brother in our match that has been playing for 10 years and I won't let him beat me. 😀 The only secret I have for my unbeaten score is that I know more about foosball tables than him. Now, I will teach you so you can be unbeaten as well.
TYPES OF FOOSBALL TABLE
To buy the best foosball table for your game room you must know a little about each type. With that in mind, it won't be hard to determine which type is for you. There are two main types of tables, a tabletop, and a classic foosball table.
Tabletop Foosball Table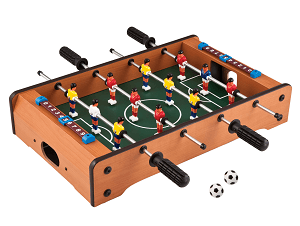 A tabletop is mostly for children because it is smaller and lighter than a classic one. It actually looks like a classic one, but without legs. You can put it on the table so you don't need extra space for it. It is a great solution for small spaces. Great thing is that you can put it away when you are not using it. The downside of tabletops is that their quality can't measure with a classic foosball table. Since their main purpose is to entertain children, you can't expect them to be heavy. Imagine if they fall on someone's leg, he can be really injured. But, the good side is that they are mostly low cost, so you won't spend much on them.
Classic Foosball Table
T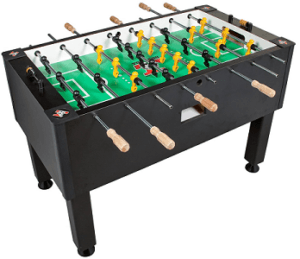 his is the most common foosball table and the one thing that comes to your mind when you say a foosball table. You don't need another table to put it, but you need extra space. A classic foosball table is a game which requires space for the game itself and for the players (you). The size of the table alone is about 56-inches to 30-inches. On that, you have to add space for handles and space for players. Measure space in your home and with that information go find the best foosball table for you. There are foosball tables which are made for professionals and for home entertainment. You can pick a table by your own preferences. A classic foosball table can be inside in your room or outside in your backyard, just make sure you buy the right one.
Pay-To-Play Foosball Table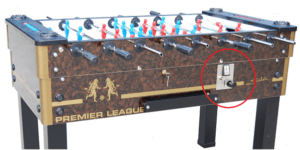 A pay-to-play foosball table is a coin operated table. It looks identical to the classic table, but you have to have money to play on it. If you are buying a foosball table for your home I can assure you this isn't the best foosball table for you. Just imagine you have to pay to play on your own game, in your own home? Absolutely not. Coin operated table usually stays in game rooms, in coffee shops and other places where people can come and play a game or just hang out.
WHO CAN PLAY THE FOOSBALL TABLE?
As you can see in the paragraph above, there are different types of foosball tables and people different ages and skills can play it. Think about your family and choose this awesome game by people who surrounds you.
Beginners
It is reasonable that you won't buy a foosball table for professionals if you haven't played a single game of foosball in your life. If you are a beginner and you aren't sure if you will like the game (but you will, trust me) buy a cheaper model. There are models which provide good gameplay but aren't too expensive. After some time, when you see that this game is the game for you, you can buy the better quality foosball table. You see what I did here? The first, cheap table is actually a trial and it won't cost you much.
I think that children are a part of this "beginners" group and for them, the best solution is a tabletop foosball. It is small, light and it can fit on the table. The good thing about tabletops and children is that it is small enough for them. On classic foosball tables, children have difficulty grabbing all handles and looking the game on the board.
Hobby Players
If you have played few times table foosball and you know that this it the best game ever you are made for this group. Hobby players are players who occasionally play this game on some party or in someone's game room. You are probably spinning rods most of the time and score. In that case, I think the foosball tables with solid construction and solid rods is a good choice for you. Just make sure the "field" doesn't have stickers on it.
Experienced Players
More experienced players know the difference between solid and hollow rods, wooden and plastic surface and if you know what I am talking about, you are one of them. You need a durable, high-end, the best foosball table in its category and this isn't a hobby anymore. Don't hesitate to give more money for best results because you will know the difference.
WHAT TO LOOK WHEN YOU ARE BUYING THE BEST FOOSBALL TABLE?
Like I mentioned it is made with specific engineering. There are things you should consider when buying that game and before we go to those things, let's determine which type of foosball table suits you best.
Goalie Configuration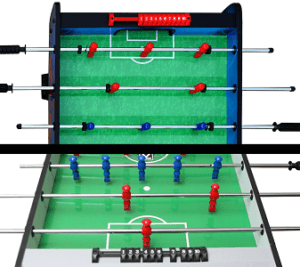 A goalie configuration is something you will notice at first glance if you are looking for a foosball table. This is one of those things which you can notice that something is odd, but not sure what. A goalie configuration means that the goalie stands alone on a bar (single-man goalie) or has 2 additional players on each side of the bar (3-man goalie). A single-man goalie is better for more precise and skilled game, while a 3-man goalie is for more active games. So, if you want to work on your skills, the best foosball table is a single-man goalie table. If all you want to do is to have a fast game of foosball, then your choice should be a 3-man goalie. In the USA is more common to play with 3-man goalies, while in the UK is more common to play with a single man goalie.
Table Construction
The best foosball table is made from solid wood. A solid wood makes the table heavy, stable and durable. That comes with a price, solid wood tables are usually more expensive than the rest but, they will last longer than any other kind. If you don't want to spend much on foosball table or you want to buy them for your kids to try out, buy a table made from particle board. A particle board is a material which isn't durable and it can bend over time, due to humidity. That tables are light, don't last long but they are very cheap. If you want to buy a test game and you expect from it to fall apart, then particle board is a solution for you. If you are just in between solid wood and particle board, then the best choice for you is a foosball table made from composite. It is lighter than the solid wood and cheaper, but when it comes to humidity it is more durable than both, solid wood and particle board. The minimum thickness for a composite to be durable is one inch. Everything else will act like a particle wood.
Counterweighted Players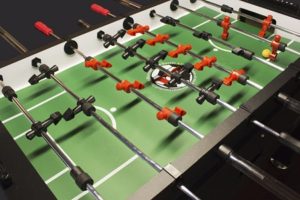 No, I am not talking about you and your friends, I am talking about those little players on the field. It is better to have counterweighted players because they won't stand in your way. I bet you are confused now. A counterweighted player means the player will stay in horizontal position if you put it that way. When you release the bar with players, basic players stand vertical and their legs are in the way. When you release the bar with counterweighted players, their legs will stay in the air and you can make the shot through your entire defense without fear of being blocked by your own teammate.
Table Surface
Table surface is one of the most important parts of the foosball table because the game happens there. For best results, the surface must be smooth, without any scratches which can affect your game. If the surface is made of wood, the ball will be a little slower. Better choices are smooth plastic or even tampered glass. One thing you must notice are markings on the field. If you buy a foosball table with glued marking you will be in trouble after few months of playing. When the glue starts to dry, the stickers will start to peel off. That means you will have obstacles all over the field. Always make sure that the markings are drawings on the surface, not stickers.
Foosball Table Rods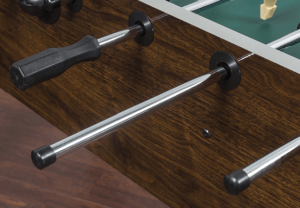 Playing rods should always be made from steel. You don't want to break the rod when the game heats up. Rods are mostly the same, but there are few things you can choose from when buying the best foosball table. Lighter rods make the game faster and to have lighter rods, you won't buy plastic ones, you will buy hollow rods. It is easier to use hollow rods which automatically makes the game faster. Also, consider the handle on rods. It is important to have a good grip or else, rods can slip through your hand. You can look for rubber or soft plastic handles with markings on them (just like bike handles). That will improve your grip.
THE BEST FOOSBALL TABLE: MY TOP 5 FOOSBALL TABLES
When I am looking for a foosball table I think about everything. This Top 5 has everything, from tabletops, solid construction, hollow and solid rods because to make the best foosball tables you have to explore every option and meet all criteria.
Tornado Sports Foosball Table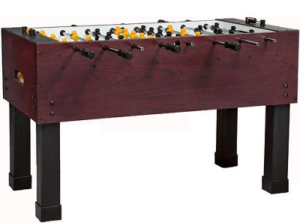 Tornado is a famous brand in foosball world which makes them the reliable choice for number 1 on my top list. It is a company situated in the USA, with the production also in the USA, so you can expect very good quality.
It is made of MDF panel which makes it stable and very durable. It is a classic foosball table with 200lbs so don't expect to move it so easily during the game. It is very thick and it will last for a long time. Trust me, this table can take every game type just fine. You can play casually, then switch to aggressive gameplay, the table won't move. It has 3-man goalie gameplay for faster gameplay.
The great thing about this Tornado Sports Foosball Table is that you can cover the legs with protective boots and to level the floor, just use shims inside the boots. With or without the shims, the table will stay in its place, only the level can be problematic. Nothing which can't be solved with shims.
The only downside of the table is players. For some reason, players aren't counterweighted, which is rather odd for a table for about $1000 price. Counterweighted players provide best results and smoother game because their legs won't go down when you turn them up. But, I can get over it since it has so many good things about it.
A Tornado is a respectable firm in foosball industry and their product is made very good, if not excellent. For this best foosball table, you will get a 1-year warranty which can confirm their quality. This table is made more for hobby players than for experienced players, but if you are experienced player you will be satisfied with it.
PROS
durable construction
can take a beating
smooth surface
easy to level
CONS
players aren't counterweighted
complicated assembly

Shelti Pro Foos II Foosball Table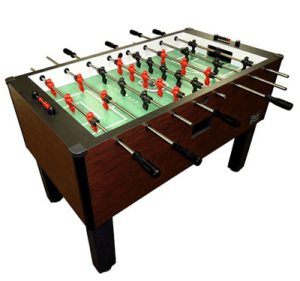 Shelti is a company situated in Michigan, USA and it stands side by side with bigger rival – the Tornado. When you see a Shelti Pro Foos II foosball table your first impression will be, it looks so simple! With clean lines and only things, you need for a great game this foosball table is without any doubt the best foosball table on the market. But, don't get distracted, this simple foosball table has everything one experienced player needs. It is made from extra quality materials and it is about 235 lbs heavy. Good luck with tipping this foosball table to move the ball. Producers of this model haven't made the same mistake as for Tornado Sports foosball table. This model has counterweighted men, who will stand in the same position you leave them hanging. Rods used to move the players are hollow and resistant to corrosion.
This foosball table is practically indestructible, its sturdiness and good quality will make it last a lifetime, not just couple years.
Reaching the ball is extremely simple for both sides because it is on the side of the foosball table and not on the front or back. To make the game, even more, faster, this table has a 3-man goalie. Little players on the field are computer tested to withhold the impact over 100mph. So, no matter how hard you kick the ball, they will stay standing.
The only downside of this awesome football table is its price if you are only a hobby player. With the price of more than an $1000, it is a big investment but I think it is worth every penny. With this foosball table, you can easily jump from a hobby player to an experienced player.
PROS
very durable
3-men goalie
extremely durable players
side ball return
CONS
high price for hobby players
Garlando G-500 Indoor Foosball Table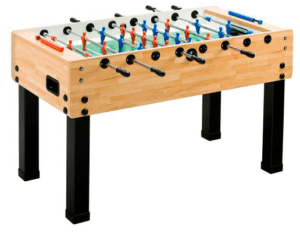 Garlando is a company from Italy famous for producing billiard and foosball tables so you don't have to doubt its quality. The style of the table is good, but not perfect. It is simple, but there are few features that stand out, like the color of the players. Garlando is a company which produces its models in Italy, meaning this model has European game style. G-500 has 1-man goalie structure so if you haven't played on it, you will have to adjust your gameplay. It is made from 1 inch thick MDF which makes it durable and stable enough to provide good gameplay. The downside of this model is that it doesn't have levelers. This isn't some big problem, but since all models in the similar price range have it, I expect the same from them (or better).
Another downside of this model is with players. Players aren't counterweighted which makes them fall when you put them on one side.
The new feature this model has, but others don't can make it the best foosball table for people who have kids or teens. Rods on this model are telescopic which provides safety. Telescopic rods mean that the rods on one side won't come out on the other side. That is an awesome solution for people who have kids because they won't get hurt. One of the main reasons why I don't recommend classic foosball table for people with kids is this particular problem. I am sure you don't want to hit your kid when you are playing table foosball. Another great feature this model has is extra smooth surface made from tempered glass. It can't be smoother than that. The ball comes from the sides, which is a better solution because you can go back playing faster.
PROS
tempered glass surface
telescopic rods
easy assembly

CONS
players aren't counterweighted
no levelers

Chicago Gaming Signature Foosball Coffee Table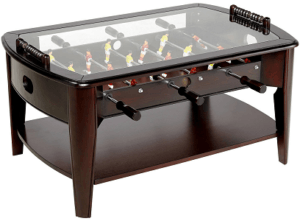 Chicago gaming did an excellent job with this foosball coffee table. The design is beautiful and at first glance, you wouldn't even notice if the table is actually a foosball table. It is wooden with slick elegant design, just like a coffee table should look like. If you want to surprise guests then this is the perfect piece of furniture for you. Every detail in the table is made from wood (rods handles and scoring) and players are colored by hand.
This is my personal best foosball table turned into the coffee table because you can see that people made and effort to make it. A coffee/foosball table is made from solid wood, which makes it very durable and thick. You can't expect for a small piece of furniture to be extra heavy so its75 lbs are actually expected. It would be great if it was heavier, but I don't mind it that much.
The good thing about this foosball/coffee table is that rods are telescopic so you won't hit your rival in the knees when playing. Handles are with one part covered so you might have a problem with grabbing them. The reason for that is so you won't hit them while approaching the sofa.
Below the table, there is one shelf which can be a decorative or you can put books on it. The table comes with levelers so you can always enjoy the straight surface game.
Since it is, after all, a coffee table it has thick glass above the players but that don't mind in gameplay. Classes and mugs, on the other hand, might. Very good quality, durable and attractive, this coffee/foosball table is worth its price.
PROS
elegant design
2in1 coffee/foosball table
hand painted players
has levelers
thick glass cover

CONS
only 75 lbs
tricky to grab handles sometimes

Sport Squad FX40 Foosball Table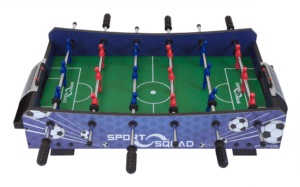 Sport Squad FX40 Foosball Table is very good tabletop foosball table, with a good balance between invested money and quality. The design is a little too childish for my taste, but since most tabletops are for children that isn't bad at all.
The entire foosball tabletop is made from metal and manufactured wood. It is durable if you consider its size and weight. It is the best foosball table for kids or beginners. It is for people who occasionally play foosball, but when they are done, they put the table away.
If you are experienced foosball player or you want to take your gameplay to the next level then you will be more satisfied with a classic foosball table than with any tabletop (not just this one).
FX40 foosball table has 3-man goalie configuration, which makes it more European style. The surface is made from laminate manufactured wood which provides fast and smooth gameplay. To get to the ball you will have to go behind the goal, but, grabbing it is rather simple. The tabletop is shorter that classic tables so you don't have to move, you just have to stretch your hand to get the ball.
Even though it is a tabletop it can stand on its legs. Legs aren't the best quality and most complaints are due to legs, but that isn't a big problem since it is a tabletop in the first place.
Pros
durable
good quality
good price – quality ratio

Cons
problems with legs
difficulties with assembly